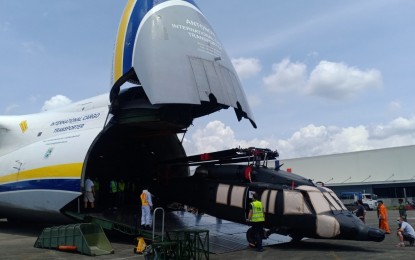 MANILA – The delivery of the 16 Polish-made S-70i "Black Hawk" combat utility helicopters in the country has been completed, the Philippine Air Force (PAF) said on Tuesday.
In an interview with reporters, PAF spokesperson, Col. Maynard Mariano said the last batch of five S-70i "Black Hawk" helicopters were transported to the Clark Air Base in Angeles City, Pampanga on Monday morning.
"(The last five S-70i helicopters), it was transported by an Antonov aircraft (An-124) that landed in Clark around 10:45 a.m. Again the (manufacturing) company is the PZL Mielec from Poland. (They are the company that has the license from the US) to build the 'Black Hawk'," Mariano said.
He added that they have started the technical inspection of the brand new aircraft before commissioning them into service.
"Every time (there is a delivery of air assets), it has to go through processes, so it has to go through acceptance, it has to go through the checking of all the systems (before we accept it)," Mariano added.
Mariano did not give a timeline on how long the inspection will take but said this involves a rigorous process.
"So if these items will not pass the tolerance in the given checklist and the test then it will not be accepted by the Air Force, (and we will have the) manufacturer come in or they have to bring the aircraft or equipment back to have it fixed," he added.
The PAF has an order of 16 S-70i helicopters from Polish company PZL Mielec worth USD241 million (about PHP11.5 billion).
The first six were delivered in November 2020 while the second batch of five was delivered this June.
One unit from the initial six units delivered in the country crashed last June 24 while on a night-flying exercise.
These helicopters will boost the Armed Forces of the Philippines' capability to conduct various operations, including humanitarian assistance and disaster response missions. (PNA)