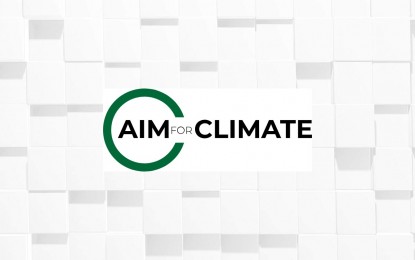 MANILA – The new 2021-2025 Agriculture Innovation Mission for Climate (AIM4C) global initiative is looking for more volunteer government and non-government partners that can help boost its bid for climate-smart agriculture and food systems innovations worldwide.
Through its partners, AIM4C targets increasing and accelerating investments and cooperation for realizing such bid so this initiative can better promote food security, climate health and farmers' welfare.
United Arab Emirates (UAE) and United States (US) launched AIM4C this month during the ongoing 26th UN climate conference in Scotland.
Over 70 countries and organizations already joined AIM4C so far, noted UAE Minister of Climate Change and Environment HE Mariam bint Mohammed Saeed Hareb Almheiri.
"We're continuing our efforts to get more partners on board because this is a very important cause," she said at one of the conference's AIM4C sessions.
She noted AIM4C needs as many partners as possible due to extent of work and funding needed in making the world's agriculture and food systems climate-smart.
US Department of Agriculture (USDA) Secretary Thomas Vilsack also pointed out that global population growth amidst agriculture-threatening climate change is raising urgency for action that will ensure food for people.
"Our world is going to continue to grow: nine billion people by 2050 - or more," he said at the AIM4C session. "They have to be fed. It's agriculture's responsibility to do so in a sustainable way."
Parties can voluntarily join AIM4C as either government, innovation sprint or knowledge partners of this initiative.
Government partners are those that announce respective increased aggregate public investments in agricultural innovation for climate-smart agriculture and food systems during the 2021-2025 period, support AIM4C's goals and intend to participate in this initiative's activities.
"Responsibility, control and oversight of investments will remain with the participant," AIM4C clarified.
Innovation sprint partners are non-government participants that announce an increase in respective aggregate self-financed investments in agricultural innovation for climate-smart agriculture and food systems during the period, enabling investments in ideas fostering innovation in an expedited time frame.
Such partners are "encouraged to facilitate innovation challenges with participation by other AIM4C participants including governments," the initiative continued.
AIM4C said responsibility, control and oversight of innovation sprint partners' investments will remain with these participants unless they determine otherwise, however.
Knowledge partners are non-government participants that support AIM4C's objectives, intend to participate in activities of this initiative and announce intent to amplify agricultural innovation through insight-sharing, innovation collaboration, coordination, demonstration, and deployment.
Private research, education, and extension institutions as well as international organizations, companies and other non-government organizations that support goals of AIM4C can join this initiative.
Last week, USDA said AIM4C already garnered from its partners an "early harvest" of USD4 billion in increased investments for helping accelerate climate-smart agriculture and food systems innovation around the world.
AIM4C is pleased with such turn-out of commitments.
"I didn't think we could necessarily get those kinds of commitments as quickly as we gotten them," Vilsack said.
Aside from UAE and US, AIM4C said its government partners so far are Australia, Azerbaijan, Bangladesh, Brazil, Burkina Faso, Canada, Colombia, Costa Rica, Denmark, Finland, Georgia, Ghana, Honduras, Hungary, Ireland, Israel, Japan, Kenya, Lithuania, Mexico, Morocco, New Zealand, Republic of Korea, the Philippines, Romania, Singapore, Sweden, the Bahamas, Ukraine, United Kingdom, Uruguay and Vietnam.
Among AIM4C's non-government partners are Ralph Lauren Corporate Foundation, life science company Bayer as well as food and beverage giant Pepsico. (PNA)