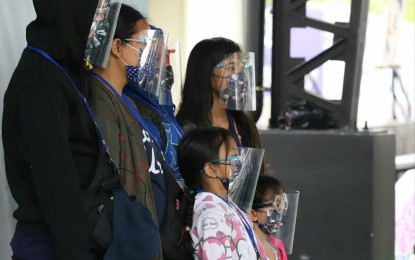 MANILA – House Speaker Lord Allan Velasco on Tuesday renewed his call to scrap the face shield mandate for the general public, saying that the protection against the airborne transmission of coronavirus disease 2019 (Covid-19) is already sufficiently addressed by the proper use of face masks.
Velasco said there is still no solid medical and scientific proof that face shields are effective deterrents to the spread of Covid-19.
"There are, however, several published medical studies noting the doubtful efficacy of face shields in preventing aerosols from spreading, which is primarily how coronavirus infects us," he said.
Citing studies conducted by physician-researchers of Wayne State University School of Medicine, he said that combining the use of face shields and masks made little difference over the use of masks alone.
He also cited an article by researchers from the Philippine Society for Microbiology and Infectious Diseases (PSMID) showing that the use of face shields may help doctors and health care workers against splashes and sprays of blood or other bodily secretions, but does not give additional protection against respiratory aerosol such as those present in Covid-19 transmission.
Velasco issued the statement after some local government units have announced they were scrapping the mandatory wearing of face shields in their areas.
Davao City Mayor Sara Duterte has recently signed an executive order (EO) which specified that wearing face shields would be voluntary in crowded places, close contact settings, and confined and enclosed spaces.
Manila Mayor Isko Moreno likewise issued an EO stating that the use of face shields would be "non-mandatory" in the city except for medical and hospital facilities.
Other Metro Manila mayors have also announced that they were in favor of scrapping the use of face shields, except in hospitals and possibly even public utility vehicles, now that many residents in their areas have been vaccinated.
Velasco renewed his call for the Inter-Agency Task Force for the Management of Emerging Infectious Diseases (IATF-EID) and the Department of Health to scrap their directives on the mandatory use of plastic face shields for the general public.
"These directives become moot anyway the moment we allowed shoppers to dine-in at restaurants, where people will take their face shields and masks off when eating," Velasco said. "This is not to say that all protocols should be scrapped; all we're saying is that we should be applying practicable and sensible health and safety guidelines by now in dealing with the pandemic."
Velasco cited the economic burden being placed on Filipinos in enforcing the mandatory use of face shields, noting that the cost of a face shield of about PHP20 to PHP50 is already a substantial amount equivalent to the cost of a meal for our indigent population.
On Tuesday, Malacañang urged all local government units (LGUs) to respect President Rodrigo Duterte's current policy on the wearing of face shields in the country.
Presidential Spokesperson Harry Roque appealed to LGUs to wait for the IATF's final decision which will also be approved by Duterte.
Roque cautioned that a new face shield policy issued by any LGU might prompt the public to disregard Duterte's directive to continue wearing it in enclosed spaces.
"Hindi pupuwede kasing nagkakaniya-kaniya sa panahon ng pandemya (We cannot afford to be not united amid pandemic)," he said in an online press briefing. "Respeto na lang po sa ating Presidente dahil lahat naman po ng desisyon ng IATF ay desisyon ng Presidente (Just respect the President because all the decisions made by IATF are also the decisions made by the President)."
The IATF-EID on Dec. 14, 2020 issued Resolution 88, requiring all persons to wear full-coverage face shields on top of face masks in all public places to control the spread of the coronavirus disease 2019 (Covid-19).
In June this year, Duterte ordered the public to wear face shields only in hospitals but immediately decided to keep the IATF-EID's original policy following the presence of the more infectious Delta Covid-19 variant.
He later announced in September this year that the use of face shields will be limited to the so-called "3Cs," which refers to "closed and crowded spaces, and close contact." (PNA)