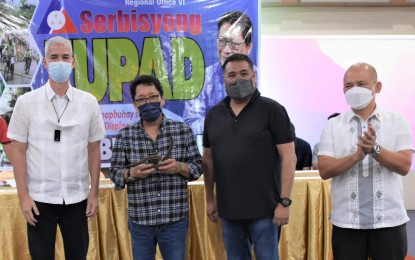 BACOLOD CITY – The Department of Labor and Employment (DOLE) has released PHP17.919 million worth of livelihood assistance to displaced laborers and overseas Filipino workers (OFWs) as well as various cooperatives in Negros Occidental, including this city, during the visit of Secretary Silvestre Bello III here on Tuesday.
"We are here to bring to your constituency a small aid from the government. This is from our hearts, but this is your money not ours," Bello said during the turn-over program at the Negros Residences hosted by Governor Eugenio Jose Lacson and Vice Governor Jeffrey Ferrer.
Recipients of the DOLE Kabuhayan Projects included Sulong sa Kauswagan Inc. in Escalante City – PHP1 million for basic household commodities through consumer store, with 153 beneficiaries; Barangay Poblacion I in Hinigaran – PHP800,000, purchase of motor banca for enhancement of fishing activities, 40 beneficiaries; Macarben Cooperative in La Castellana – PHP1 million, rice, fertilizers, and poultry feeds supply, 60 beneficiaries; Barangay Haba in Candoni – PHP1 million, agricultural farm inputs, 60 beneficiaries; and Barangay East Poblacion, also in Candoni – PHP1 million, agricultural inputs business enterprise, 54 beneficiaries.
Others were Barangay Rizal, San Carlos City – PHP500,000, rice and fertilizer retailing, 46 beneficiaries; Barangay Tabu in Ilog – PHP500,000, agricultural outputs, 60 beneficiaries; Barangay Carabalan in Himamaylan City – PHP 1 million, goat raising, 60 beneficiaries; and Barangay Sta. Rosa Small Farmers Association in Murcia – PHP1 million, rice and fertilizer trading, 57 beneficiaries.
Also turned over were the cash-for-work for beneficiaries of the Tulong Panghanapbuhay sa Ating Displaced/Disadvantaged Workers or TUPAD Program.
These included beneficiaries from Barangay Alegria, Murcia, totaling 50, who received PHP215,000; Barangay Lopez Jaena, Murcia, 70 beneficiaries – PHP301,000; Barangay Zone 3, Murcia, 32 beneficiaries – PHP137,600; Barangay Bubog, Talisay City, 98 beneficiaries – PHP421,400; Barangay Zone 4A and Zone 8, Talisay City, 60 beneficiaries each – PHP215,000, respectively.
In La Carlota City, Barangay III Poblacion has 200 beneficiaries, who received a total of PHP1.255 million; and Barangay Haguimit, 155 beneficiaries – PHP927,625 while Barangay Guintorilan, San Enrique, 100 beneficiaries – PHP627,500; Barangay Canroma, Pontevedra, 120 beneficiaries, PHP753,000; Barangay Mabini, Pontevedra, 50 beneficiaries – PHP313,750.
Meanwhile, the Local Government Unit-Binalbagan has 202 beneficiaries, with PHP868,600; in Himamaylan City, Barangay I Poblacion, 40 beneficiaries – PHP172,000; Barangays Caradio-an and Libacao, 35 beneficiaries each – PHP150,500, respectively; Barangays Mambagaton and Sarae-t, 40 beneficiaries each – PHP172,000, respectively; Barangay Calapi, Hinigaran, 40 beneficiaries – PHP172,000; in La Castellana, Barangay Manghanoy, 35 beneficiaries –PHP150,500; and Barangay Masulog, 109 beneficiaries, PHP468,700.
Under the Overseas Workers Welfare Administration (OWWA) "Balik Pinas, Balik Hanapbuhay", 20 former OFWs received financial assistance of PHP20,000 each while the Tabang OFW Program granted eight beneficiaries with scholars, PHP30,000 each.
Lacson told Bello it is an honor and pleasure for the province to welcome them.
"Thank you for your commitment to the welfare and well-being of the Filipino worker," the governor said.
Bello was also joined by OWWA chief Hans Leo Cacdac and Philippine Overseas Employment Administration head Bernard Olalia during his visit.
In separate rites at Forest Park Water Garden Resort in Barangay Taculing, Bello was welcomed by Mayor Evelio Leonardia.
He turned over PHP1.535 million worth of cash aid to 190 TUPAD beneficiaries and 27 recipients of the OWWA assistance programs. (PNA)