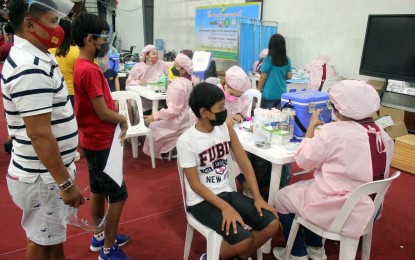 MANILA – The government is set to hold a three-day national Covid-19 vaccination drive from Nov. 29 to Dec. 1, President Rodrigo Duterte said in his "Talk to the People" on Tuesday.
The simultaneous massive vaccination drive also coincides with the commemoration of the life of national hero Andres Bonifacio on Nov. 30.
"In this, we want to convey a message that every Filipino who get vaccinated--are heroes," Duterte said.
National Task Force (NTF) against Covid-19 chief implementer, Sec. Carlito Galvez Jr., earlier said the eyed three-day vaccination program targets to increase the country's average daily vaccination rate of at least 1 million doses to achieve population protection.
Galvez said the government, in partnership with the Philippine Medical Association and its allied medical groups within the Rotary Club, will hold the inoculation "by mobilizing the NGOs (non-government organizations), government agencies, private sector, and the volunteers."
He added the initiative aims to further accelerate and expand the country's vaccination program, wherein some schools will be converted into vaccination sites for the event, likening it to holding elections. (PNA)