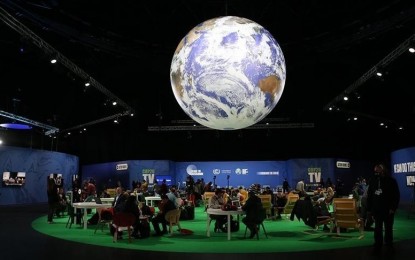 ANKARA – The UK presidency of the 26th session of the UN Climate Change Conference, known as COP26, on Wednesday published the first draft agreement of decisions that the summit parties will negotiate and issue on Friday at the end of the summit.
The draft agreement that focuses on cutting carbon emissions advised immediate action to limit the global temperature rise to 1.5 C.
It underlined the importance of multilateralism and international cooperation in addressing climate change and its impacts in "this critical decade," and encouraged the need to urgently accelerate action and scale up finance to support the developing countries.
The six-page draft agreement of the UN climate agency also highlighted ensuring a sustainable, resilient, and inclusive global recovery in the light of the coronavirus disease 2019 (Covid-19) pandemic, particularly showing solidarity with developing countries.
It stressed the important role of civil society --including youth and indigenous peoples-- in addressing and responding to climate change, and emphasized the urgent need for action.
Touching on the improvement by countries in their carbon reduction plans, the draft text urged parties to "revisit and strengthen the 2030 targets in their nationally determined contributions, as necessary to align with the Paris Agreement temperature goal by the end of 2022."
The agreement also focused on equity, common but differentiated responsibilities, and respective capabilities in light of different national circumstances.
It called on paying attention to human rights, gender issues, youth participation and empowerment, poverty alleviation, climate justice, as well as the integrity of Earth in the context of sustainable development.
The climate conference will continue through November 12 with more panels, meetings, and side events, all looking for remedies to reduce the levels of global warming by keeping it at 1.5 C.
Many heads of state and government, as well as 25,000 more delegates from 200 countries, are at the Glasgow conference. (Anadolu)