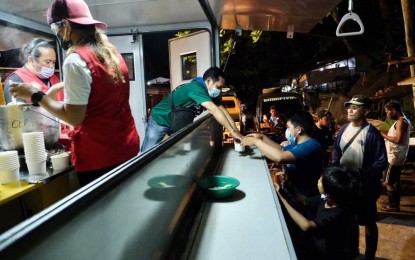 DAVAO CITY – Around 9,000 families have been evacuated on Wednesday to temporary shelters after torrential rains caused rivers to overflow and flood residential areas, the City Social Welfare Development Office (CSWDO) reported on Thursday.
CSWDO head Marlisa Gallo, through the City Information Office, said the evacuated residents mostly came from the 13 barangays directly affected by the floods.
Among the affected areas were Jade Valley, Tigatto, Maa, Matina, and Bacaca, based on the online reports from the Davao City Central 911, which earlier conducted search and rescue operations in parts of the city.
According to the Davao City Risk Reduction and Management Office (CDRRMO), increased water levels in Davao River, Matina River, and Lasang River were caused by rainfall and thunderstorm brought by the tail-end of the frontal system.
"We have given them food so far and we are still assessing the damaged properties. So far, there are three houses got are partially damaged in Marilog District," Gallo said, adding that hot meals were given to the affected residents.
Leptospirosis
Meanwhile, in an interview, Dr. Ma. Theresa Bad-ang, nephrologist and head of Southern Philippines Medical Center-Human Advocate and Retrieval Effort (SPMC-SHARE), warned affected residents against the threat of leptospirosis during a flood.
She urged the public to either avoid wading through floodwaters or wear protective footgear like booths and wash their feet thoroughly with soap.
"If you feel ill immediately go to their nearest health center, and consult with a doctor if symptoms persist. That should not be taken for granted because leptospirosis is very fatal," Bad-ang said.
Leptospirosis, a bacterial infection that can cause heart, liver, and kidney failure in severe cases.
On Wednesday, Davao City First Congressional District Rep. Paolo "Pulong" Duterte made the rounds to inspect flooded areas in the city.
Personnel from the lawmaker's office also distributed food packs [containing rice, canned goods, milk, bread, biscuits, and water] and other basic needs to all flood victims from Barangays 2A, 5A, 8A, 9A, and Maa. (PNA)