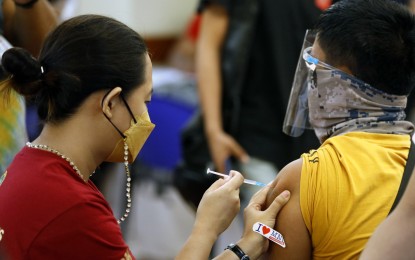 MANILA – Vaccine czar Secretary Carlito Galvez Jr. on Thursday said about 102.86 percent of the National Capital Region (NCR)'s target population have received at least one dose of Covid-19 vaccine.
Galvez, who is also the chief implementer of the National Task Force (NTF) against Covid-19, said more than 8.8 million individuals or 90.75 percent of the Metro Manila's target population are now fully vaccinated against the dreaded disease.
He expressed confidence that the 17 local government units (LGUs) in NCR will be able to fully vaccinate their respective target populations, including children ages 12 to 17, by the end of the year.
Galvez said Metro Manila is among the priority regions that receive the bulk of vaccine supply, with more than 20 million doses were deployed to its local governments as of Nov. 8.
"These deliveries are directly proportional to the current vaccination output of the region, which has already inoculated 102.86 percent of its target population with at least one dose," he added.
He lauded the Metro Manila mayors for "this another milestone" in the country's vaccination program.
"This proves that we remain on track with our vaccination targets. Truly, nothing is impossible if we all work together. A better Christmas is now at hand," he said.
Galvez also noted that the increasing throughput of the vaccination program has contributed to the continuous decline of Covid-19 cases in all areas nationwide.
He added the vaccination drive has helped in the growth rebound of the country's economy up to 7.1 percent during the third quarter, despite the six weeks strict lockdowns.
"Our next goal is to start and sustain the opening up of our classes to protect our children's future and development. We need to vaccinate our students and teachers before the end of this year," he said.
The government remains firm in its goal to complete the vaccination of at least 54 million Filipinos before end-December.
As of Thursday, the country has administered a total of 66,816,976 doses of coronavirus vaccines with 30,478,899 Filipinos are now fully vaccinated.
Based on the latest data from the National Covid-19 vaccination dashboard, the country's average daily vaccination rate in the last seven days has increased to 780,290 doses, compared to 647,580 doses in the previous week.
Galvez earlier said the government is now scaling up the vaccination program with the steady arrival of bigger vaccine deliveries.
Galvez noted part of the government's inoculation strategy is to secure regions and provinces to continue to get sufficient vaccines they can use for the ramping up their respective vaccination drives.
"We continue to recalibrate our vaccine distribution strategy to ensure that no one will be left behind. It is our hope that all regions in the country will be able to scale up their vaccination throughput so we can hit our target of administering 1.5 million jabs daily," he said.
The Philippines has received a total of 118,112,370 Covid-19 doses from various manufacturers, as of Wednesday. (PNA)