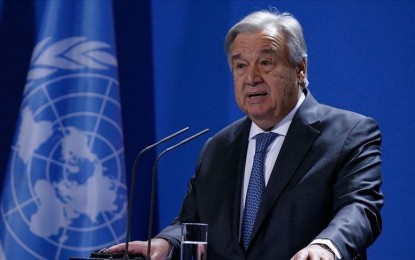 WASHINGTON – The worsening ravages of the climate crisis require all parties to act to prevent a looming catastrophe, UN Secretary General Antonio Guterres said Thursday.
"The climate action struggle requires all hands on deck. It is everyone's responsibility," Guterres told delegates at the UN climate summit in Glasgow, Scotland, adding he is "inspired" by the actions of civil society, youth, indigenous communities, and women's groups.
"You are indeed racing to a better world," Guterres said. "Governments need to pick up the pace and show the necessary ambition on mitigation, adaptation and finance in a balanced way. We cannot settle for the lowest common denominator. We know what must be done."
The UN chief referenced the international body's latest climate report, which warned that even if governments curb emissions in line with commitments made at COP26, the world remains on track for a "catastrophic temperature rise" well beyond 2 degrees Celsius, or 3.6 Fahrenheit.
He lauded a bilateral agreement between Washington and Beijing, the world's top two carbon polluters, to cooperate on limiting emissions, but said actions, not words, matter.
"I welcome the recognition of this fact in yesterday's US-China cooperation agreement —that I consider an important step in the right direction," he added. "But promises ring hollow when the fossil fuels industry still receives trillions in subsidies, as measured by the IMF. Or when countries are still building coal plants. Or when carbon is still without a price –distorting markets and investors' decisions." (Anadolu)