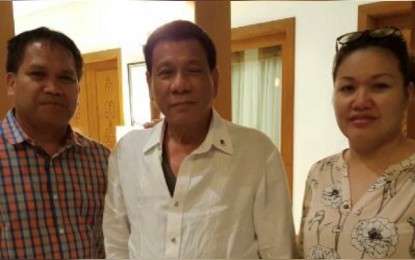 MANILA – A kin of Honeylet Avanceña has been named one of the nominees of Malasakit Movement Party-list.
The party-list picked Eusebio Avanceña, a cousin of President Rodrigo Duterte's common law wife, as its new third nominee.
Mr. Avanceña replaced Elizabeth Rodriguez.
Former Metropolitan Manila Development Authority spokesperson and top nominee Celine Pialago represented Mr. Avanceña at the Commission on Elections on Friday to file the substitution.
"Since Mr. Eusebio Avanceña is our acting chair, the board felt the need for his presence in our party-list. He has long supported Malasakit Movement, our programs, and projects. Mr. Avanceña can contribute a lot to our programs and projects and we share the same ideals na magmalasakit para sa ating mga kapwa Pilipino (to care for our fellow Filipinos)," Pialago said in a news release.
The party-list will push for benefits of village workers and front-liners who receive measly compensation, as well as of overseas Filipino workers, persons with disabilities, senior citizens, and farmers, among others.
Pialago said they will also work for the creation of health care centers in far-flung areas to end the travel woes of patients and seek better hazard benefits for regional disease detectives or those working under Regional Epidemiology Surveillance Units.
She also aims to create a more efficient system for the distribution of cash assistance by utilizing technologies for cash transfers. (PR)