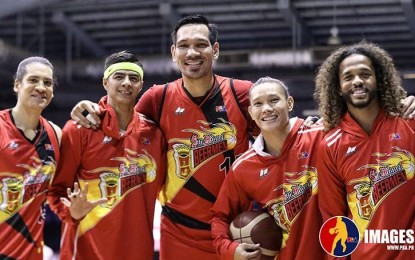 MANILA – While the Philippine Basketball Association (PBA) is busy preparing for the launch of its 3x3 league, the league's trade committee on Saturday approved a one-on-one trade between Alex Cabagnot and Simon Enciso.
San Miguel traded Cabagnot to Terrafirma, making him the second member of its so-called "Death 5" to be shipped out this week.
The week began with the Beermen shipping Arwind Santos to the NorthPort Batang Pier for Vic Manuel, leaving San Miguel with Marcio Lassiter, June Mar Fajardo, and Chris Ross as three of the five players who netted the team multiple PBA titles
Cabagnot has been hampered by an injury, which limited him to just four games in the Philippine Cup, averaging 12.3 points, 3.8 rebounds, and 2.8 assists per game.
Meanwhile, Enciso will not get to play a single minute for Terrafirma as he was quickly shipped to SMB a month and a half after Blackwater let him go in a late September deal.
Roosevelt Adams was reportedly added to the Cabagnot-Enciso deal but the trade committee approved just the Cabagnot-Enciso swap.
3x3
The 3x3 tournament will have 13 teams grouped into three pools for the inaugural leg.
Following the pool draw on Saturday at the Ynares Sports Arena in Pasig City, five teams, three PBA 5-on-5 mainstays which formed their 3x3 affiliates, and two guest teams that stacked up their rosters with veteran presence, have been placed in Pool A for the preliminary round that begins November 20.
TNT and Purefoods, which figured in the recently concluded Philippine Cup Finals won by the Tropang Giga, are in Pool A along with Limitless, Phoenix's affiliate; Zamboanga, which is bringing in seasoned veteran Mark Cardona; and Platinum, featuring FIBA 3x3 pro circuit veterans Karl Dehesa and Chris Dechavez.
Pool B is an all-PBA group with Ginebra, Meralco, Terrafirma, and Sista, Rain Or Shine's affiliate.
Pool C has the other guest team, Pioneer Epoxy, and PBA squads NorthPort, San Miguel, and Cavitex, NLEX's affiliate.
International reward
The champion of the rookie league could be sent abroad to join a FIBA (the international basketball federation) 3x3 club event.
Samahang Basketbol ng Pilipinas 3x3 program director Ronnie Magsanoc said this is a part of the league's mission to help the Philippines rack up enough FIBA points to directly qualify for the Paris Olympics in 2024.
There is also a possibility that FIBA would be bringing an international event to the Philippines through the PBA 3x3's help.
Hosting an international event would also be credited as FIBA 3x3 points.
Magsanoc said the PBA 3x3 is classified as an "olive" level event, equivalent to Level 4.
"According to our conversation with FIBA 3x3, if they find our execution as properly managed as well as the prize money, we would be given one grade up, and we're hopeful that we would be promoted to blue because every color category has higher points given to the individual points, teams, and the federation," Magsanoc said in an interview. (PNA)