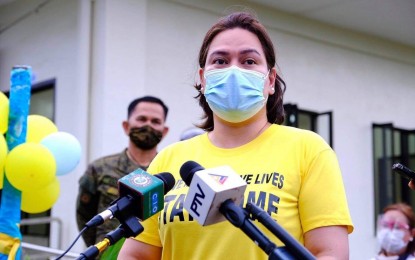 MANILA – The Lakas-Christian Muslim Democrats (Lakas-CMD) on Monday said the decision of Davao City Mayor Sara Duterte to run for vice president in the 2022 polls did not originate from former President Gloria Macapagal-Arroyo.
"The idea of her running as vice president did not originate from former president Gloria Macapagal-Arroyo. There was no meeting, planned or canceled, between former President Arroyo and Mayor Duterte in Balesin," the Lakas-CMD said in a statement.
On November 9, Duterte withdrew her certificate of candidacy (COC) for mayor and her younger brother, Vice Mayor Sebastian Duterte, took her place.
The mayor's VP candidacy under Lakas-CMD was filed by a representative on Saturday, quickly followed by the announcement of the Partido Federal ng Pilipinas that they are adopting the daughter of President Rodrigo Roa Duterte as the running mate of its standard-bearer, Ferdinand "Bongbong" Marcos Jr.
Lakas-CMD also clarified that there was "no summons" for Marcos to go to Balesin.
The party said it has been publicly committed to any national aspirations of Sara from the beginning.
"As earlier stated by party President [Martin] Romualdez, Lakas-CMD is elated with Sara joining Lakas because of her sterling qualities as a leader and we saw up close her exemplary work ethic as chief executive of Davao City," it said.
Sara went to Balesin on Thursday to join the celebration of Speaker Lord Allan Velasco's birthday.
It was speculated that Sara met up with Arroyo in Balesin, however, the latter's staff denied it.
Running for the No. 2 position, according to Sara, is a path that would allow her to heed her supporters' call to serve the country and make her a stronger person and public servant.
"I am here to answer your call. I appeal to all supporters to stay calm. Let us be circumspect and stay the course," she added.
As for the issues confronting the ruling party, Partido Demokratiko Pilipino–Lakas ng Bayan (PDP-Laban), Sara said she does not want to be involved.
"The problems of PDP are their own. Let them resolve their issues within their party," she said.
"This is all politics and this will not matter in the years to come or even now when we need to focus on our country's recovery and the people's welfare," she added. (PNA)