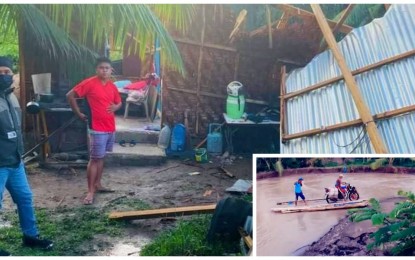 COTABATO CITY – The provincial government of North Cotabato on Monday has started helping rebuild the lives of families whose houses were damaged by a tornado in Matalam town.
At least 36 homes were destroyed by the tornado that hit at least two farming villages of Matalam, North Cotabato on Sunday night following a day-long light to moderate rain spawned by a low-pressure area affecting Mindanao.
Marily Samson, Matalam municipal disaster risk reduction management officer, said the initial cost of damage on the victims' houses and properties was pegged at PHP500,000.
"It may go higher as we complete the assessment," she said in a radio interview on Monday.
Heavily affected were barangays Poblacion and Manubuan.
The local government has provided materials for the repair or reconstruction of houses either damaged or destroyed by the twister. Those with destroyed houses, emergency aid was also extended.
Aside from the devastation brought about by the tornado, several families were also displaced by floods that hit low-lying zones in Barangay Poblacion.
Samson said there was no massive evacuation as the water quickly subsided.
"There was also no reported casualty among the residents," he added.
In Barangay Manimaing, the calamity also destroyed some 14 hectares of agricultural lands, village councilman Gery Abuen said.
"Rice fields scheduled ready for harvest were damaged when floodwater swept through the rice paddies after the Lina Creek in Barangay Manimaing overflowed," he said.
Damage to agriculture has yet to be determined. (PNA)