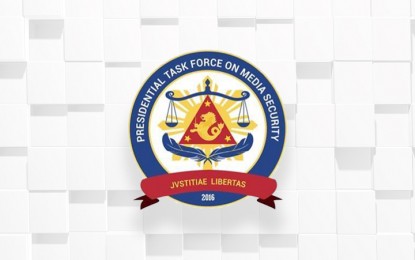 MANILA – A murder complaint has been filed against a suspect in connection with the killing of Newsline Philippines reporter Orlando "Dondon" Dinoy last Oct. 30, 2021, the Presidential Task Force on Media Security (PTFoMS) said on Tuesday.
Undersecretary Joel Sy Egco, PTFoMS Executive Director, announced that a case for murder was filed against Brandie Mercado Campaner alias "Bos-Bos", the person identified by several eyewitnesses as the gunman who shot and killed Dinoy, at the Provincial Prosecutor's Office in Davao del Sur under NPS Docket Number XI-04-INV-21K-00299.
Egco said the Task Force is officially declaring the Dinoy murder case as not related to his work as a journalist.
Egco said there were three possible motives for the killing unearthed by investigators from the Bansalan Municipal Police Station, the strongest was a personal grudge in relation to the victim's other endeavors outside of his work as a reporter.
He commended the Philippine National Police (PNP), especially the Special Investigation Task Group Dinoy, for speedily solving the crime while calling for an extensive manhunt in the entire Mindanao for the capture of Campaner.
"I salute the men and women of the PNP, especially Brig. Gen. Filmore Escobal, Regional Director of PRO 11, Maj. Peter Glenn Ipong, Chief of Police of Bansalan MPS, and investigators Lt. Col. Alan Vergiza, PCpl Michael Sorinao and PCol Giusseppe Geralde for their quick resolution of the Dinoy killing. We are very grateful for your dedication in investigating and solving this heinous crime," Egco said.
The PNP is one of the law-enforcement agencies that comprise the PTFoMS, an inter-agency task force dedicated to protecting media workers created by President Rodrigo Duterte in 2016 under Administrative Order No. 1.
Egco also said eyewitnesses to the crime will be referred to the Witness Protection Program of the Department of Justice.
"While the case is deemed non-work related, we will continue to monitor and work double-time to catch his killers and whoever may be behind them. There is no justification for murder," he said.
"Sa mga nagpropaganda sa kasong ito, huwag kayong manahimik. Kung tutulong kayo, tumulong kayo. Ginagamit niyong (Those who used this case as propaganda, don't stop. If you want to help, you help. You use) "media killing" to hit government and for your own benefit. Pero hindi naman talaga kayo nakakatulong. Bagkus, (But you are not really helping. Instead) you are helping the perpetrators by way of you muddling the case. Tulungan natin ang mga maliliit na kasapi ng (Let's help the small members of) media by empowering them economically. Help them by pushing for the proposed Media Workers Welfare Act," Egco added, referring to the bill that has been pending in the Senate for almost a year after being approved unanimously by the House of Representatives.
Dinoy, who is a member of the LGBTQ community, died after being shot several times in her apartment located at Mother Ignacia St., Poblacion Uno, Bansalan, Davao del Sur.
Previous possible motives arising from her alleged relationships have been ruled out by the PNP.
Driver-companion
Col. Giusseppe Geralde, the director of the Davao del Sur Police Provincial Office and the special investigation task group (SITG) commander for Davao del Sur, told the Philippine News Agency (PNA) that based on the accounts of the witnesses, Campaner's imaged matched the computerized facial composite done by the Bansalan Municipal Police Station.
"He is not yet arrested but we are doing (our) best to locate him. Campaner is allegedly a gun for hire and according to our investigators, he has an outstanding warrant," said Geralde who did not specify the details.
He also added that they have not yet identified the driver-companion of Campaner.
"The SITG will not stop until justice will be served for Dondon. We thanked those who helped us in the ongoing investigation," Geralde added. (PR/with Che Palicte, PNA)