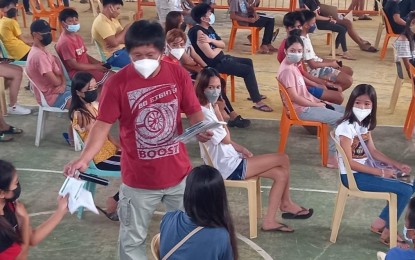 MANILA – Just like the previous doses of coronavirus disease 2019 (Covid-19) jabs, the National Task Force (NTF) Against Covid-19 encouraged fully vaccinated individuals to take whatever available brands will be administered as booster shots.
In an interview on Tuesday, NTF chief implementer Secretary Carlito Galvez Jr. said the Department of Health (DOH) has recommended the heterologous (mixed) booster vaccination, while vaccine makers endorsed homologous (same brand).
Whatever they choose, Galvez insisted all vaccines procured by and donated to the government are safe and effective against the risk of Covid-19 infection.
"We are recommending na kung ano 'yung available, 'yun ang i-take nila (they should take whatever is available)," he said.
Galvez echoed health experts' repeated pronouncement that "all the vaccines continue to provide strong protection against severe illness, hospitalization, and death from Covid-19".
"Based on real-world data, lahat ng mga vaccines naman (all vaccines are) effective. It's beyond 80 percent of prevention for severe symptoms and hospitalization," he said.
In a public advisory released Monday night, the DOH recommended the administration of Pfizer, Moderna, and Sinovac brands as booster shots.
All fully vaccinated healthcare workers may start receiving booster shots beginning Wednesday.
"We are expecting also that our seniors and persons with comorbidities, baka tingnan natin next week baka magsimula na rin tayo (we are looking into it that. We might start next week)," he said.
Galvez said the NTF is coordinating with the National Vaccine Operations Center to conduct simultaneous booster vaccination for healthcare workers, elderly, and adults with comorbidities.
The Philippines has so far received 124,914,000 doses of Covid-19 vaccines. (PNA)