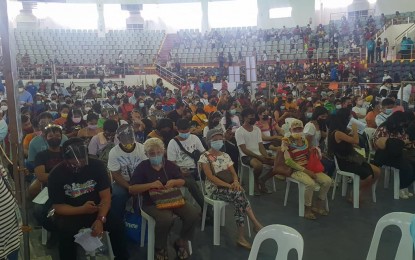 TACLOBAN CITY – Some 1.52 million residents in Eastern Visayas have been vaccinated against the coronavirus disease 2019 (Covid-19) as of Nov. 16, representing 45.3 percent of the target population in the region, the Department of Health (DOH) regional office here reported on Wednesday.
This means that that there are still 1.83 million residents who have yet to receive Covid-19 jabs for the region to achieve the 70 percent target vaccination coverage.
The DOH is eyeing to administer vaccines to 3.36 million residents in the region's six provinces and two independent cities before the end of 2021.
The 1.52 million vaccinated residents include the 935,177 individuals who got complete doses of vaccine, representing 27.8 percent of the target population.
Biliran province leads all areas in the region in its coverage rate at 78.3 percent, followed by Ormoc City at 70.5 percent, Tacloban City at 62.6 percent, Southern Leyte at 52 percent, Eastern Samar at 51.5 percent, Leyte at 44.4 percent, Northern Samar at 32.4 percent, and Samar at 32.2 percent.
Several towns across the region have vaccinated 70 percent or more of their target population as of November 15.
The highest coverage was recorded in Almeria, Biliran at 89.9 percent.
Other areas with high coverage rates are Capul in Northern Samar; Naval, Biliran, Caibiran, Culaba, Maripipi, Cabucgayan, and Kawayan in Biliran province; Tunga in Leyte; and Padre Burgos and Limasawa in Southern Leyte.
"The DOH Eastern Visayas Center for Health Development has pursued the ramp-up of vaccination initiatives in the municipalities, cities, and provinces in the region and helped carry out the vaccination roll-outs through the provision of technical assistance and ensuring sufficient supply of Covid-19 vaccines," the DOH said in a statement.
"The ramp up strategy is also a way to ensure support from the local government units and each respective local chief executives, as each has a vital role to play in the implementation of this intensified inoculation activity in the region where vaccinating 70 percent of the population is envisioned before the year ends," it added.
While the region has fully vaccinated 27.8 percent of its target population, the DOH regional office, and all its partner agencies remain firm in their goal to complete the vaccination of at least three million people of Eastern Visayas.
The vaccination roll-out has significantly reduced Covid-19 cases in Eastern Visayas this month.
On Nov. 16, the region just recorded 15 new Covid-19 cases and a positivity rate of only four percent.
As of the same date, there are only 198 active cases representing 0.39 percent of the total.
The region has recorded 51,101 cases since last year, including 50,299 recoveries and 604 deaths. (PNA)