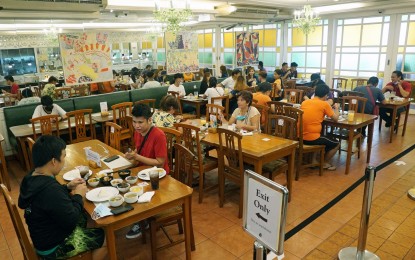 MANILA – Presidential Adviser for Entrepreneurship Joey Concepcion has reminded business establishments to uphold minimum public health standards to further control the spread of coronavirus disease 2019 (Covid-19) despite the easing of alert level systems in some parts of the country, including Metro Manila.
"Business establishments like restaurants, spas and salons should ensure high compliance by allowing only fully vaccinated persons in their indoor spaces... Let us not lose the trust that the government has given us. We all want to move NCR (National Capital Region) to Alert Level 1 in December," Concepcion said in a statement Wednesday.
Concepcion, who is also the Go Negosyo founder, made the statement as the positivity rate last November 12 rose to 5.5 percent, which is higher than the World Health Organization-recommended positivity level of 5 percent.
He added that although the slight uptick is expected due to more mobility of people, complacency will be the country's enemy as it moves toward overcoming the pandemic.
"If we want to keep the economy open, we must do as we promised and enforce these safety measures," he said.
Meanwhile, starting on Friday, Go Negosyo is premiering "Kandidatalks" that will host presidential candidates and other aspirants for national posts to bare their platforms for the upcoming election.
"Kandidatalks" is a special series of Go Negoshow that will be streamed live on Go Negosyo's Facebook page.
"Kandidatalks will focus on what the 2022 election holds for the country's small, medium, and micro entrepreneurs," the office of the presidential adviser said in a statement.
The online talk aims to know the presidential candidates' platforms especially on economy and enterprises.
"There are so many MSMEs (micro, small and medium enterprises) in the country, and they contribute so much to the economy. We would like to know the plans of these national candidates for helping our entrepreneurs," Concepcion said.
He said the next election will be crucial as there are several issues that the country is facing amid the Covid-19 pandemic.
"Leadership will be crucial in ushering the Philippines out of the pandemic and into the path of recovery and growth," he added.
Kandidatalks is scheduled every Monday, Wednesday, and Friday at 6 p.m.
Former presidential spokesperson Ernesto Abella is the first presidential candidate that will grace the premiere on November 19.
This will be followed by presidential aspirants Vice President Leni Robredo on November 22, Senator Manny Pacquiao and Leody De Guzman on November 24, former Senator Bongbong Marcos on December 1, and Senator Ping Lacson on December 20.
Senator Christopher Lawrence Go and Manila Mayor Isko Moreno are also expected to appear on Kandidatalks. (PNA)