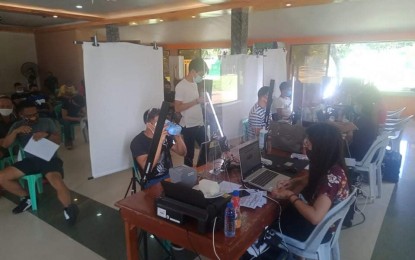 ILOILO CITY – The Philippine Postal Corporation (PhlPost) has delivered 193,823 national identification cards to residents in the province and city of Iloilo who registered for the Philippine ID System (PhilSys).
From May to Nov. 5, 2021, PhlPost has received 263, 715 Philippine IDs for delivery, as per the latest data generated by the Philippine Statistics Authority (PSA).
Iloilo Provincial Statistics Officer Nelida C. Amolar, in an interview Wednesday, said the IDs are delivered to their residence, with low–income families who registered last year and earlier this year as priorities.
"We humbly ask for the registrant's patience and support as currently, those prioritized in the distribution of PhilIDs are low-income families registered in 2020 and earlier this year," she said.
Amolar said there were complaints that some did not receive their national IDs even if they have registered earlier.
She said after their Step 2 Registration, the data will undergo a standard verification process such as deduplication to ensure that the registrations are unique before a PhilSys Number (PSN) can be provided.
The data will also undergo the standard back-end processes, which are generally done by batches based on the date of registration, she added.
Others may receive their PhilID later even if they register ahead for reasons such as the deduplication process may have flagged the need for the data to undergo manual verification and/or manual adjudication for possible duplicates within the PhilSys Registry, the PhilID card may not have passed the quality checks and thus require reprinting, and possibly their PhilId Card is included in another batch for delivery of PhilPost.
"Once PSN is generated, the PhilID card will be personalized and subjected to multiple quality checks. Finally, it will be attached to PSN letter which will be placed inside an envelope before dispatch to PhilPost for delivery. These processes are put in place so that every registrant gets to enjoy a secure PhilID," Amolar said.
As the delivery is ongoing, she said PSA continues to hold the registration through their centers and mobile sites.
As of Nov. 16, the PSA registered for the second step 1,433,149 Ilonggos out of their 1,571,029 target for this year. (PNA)