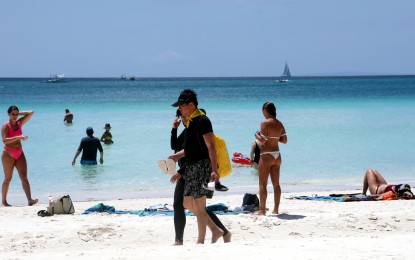 MANILA – Fully vaccinated tourists from "green list" countries and territories may soon enter the Philippines once the Inter-Agency Task Force issues the guidelines that are expected to come out before the end of the month.
The Department of Tourism (DOT) on Friday said the IATF "has approved in principle the entry of fully vaccinated tourists from green list countries/territories/jurisdictions following the guidelines as may be finalized and approved" by the task force.
In a text message, Tourism Secretary Bernadette Romulo-Puyat said the IATF is set to meet this afternoon to discuss the protocols, which will be released "definitely by November."
She made an assurance that this move to open leisure travel from "green countries" would be based on strict conditions.
Only fully vaccinated individuals with vaccines recognized by the country's Food and Drug Administration under an Emergency Use Authorization (EUA) or those authorized by the World Health Organization will be allowed entry to the country.
"Allowing tourists from green countries or territories that have the majority of its population vaccinated and with low infection rate, will greatly help in our recovery efforts--increasing tourist arrivals and receipts among others," Romulo-Puyat said.
"This move will likewise aid in bolstering consumer confidence, which is a large contributor to our gross domestic product or GDP growth," she added.
As of this posting, the following countries have been classified under the "green list" until Nov. 30, 2021:
American Samoa
Bhutan
Chad
China (Mainland)
Comoros
Cote d'Ivoire (Ivory Coast)
Falkland Islands (Malvinas)
Federated States of Micronesia
Guinea
Guinea-Bissau
Hong Kong (Special Administrative Region of China)
India
Indonesia
Japan
Kosovo
Kuwait
Kyrgyzstan
Malawi
Mali
Marshall Islands
Montserrat
Morocco
Namibia
Niger
Northern Mariana Islands
Oman
Pakistan
Palau
Paraguay
Rwanda
Saint Barthelemy
Saint Pierre and Miquelon
Saudi Arabia
Senegal
Sierra Leone
Sint Eustatius
South Africa
Sudan
Taiwan
Togo
Uganda
United Arab Emirates
Zambia
Zimbabwe
Puyat said the IATF approval was a welcome development as other countries have reopened their borders to international leisure travelers.
"Our Asean neighbors like Thailand, Vietnam, and Cambodia also did the same. We believe that it is also time for us to reopen our borders for inbound tourism as a way towards full recovery," she said.
Excluding the Faroe Islands and the Netherlands, which are under the "red list", all other countries or territories not listed are classified under the "yellow list".
The agency said a proposal to establish a "vaccinated travel lane or bubble" for the yellow list countries has been submitted Thursday for IATF approval.
The proposed bubble is a special program for vaccinated tourists coming from yellow list nations to allow them to enter the Philippines under certain restrictions and strict conditions. (PNA)