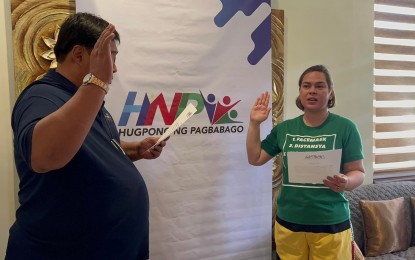 DAVAO CITY – More than a week after she resigned from her regional party Hugpong ng Pagbabago (HNP), Mayor Sara Z. Duterte is back as the party's chairperson.
In a message sent to the Philippine News Agency (PNA) on Friday, her spokesperson, Liloan, Cebu Mayor Christina Frasco, said the vice-presidential candidate was happy to be sworn back in as the party's top official.
"I am happy to be home and back into the fold of our beloved Hugpong ng Pagbabago as its chairperson. The HNP chairmanship I now hold concurrently with the chairmanship of Lakas-CMD (Christian Muslim Democrats) with the permission of Lakas," Duterte said.
On Thursday, she was installed as the new chairperson of Lakas-CMD.
During the virtual meeting, Duterte thanked the members of the party for the trust and confidence given to her.
"It is an honor for me to be with the hardworking and capable officers and members of the Lakas-CMD Party. The support you have given me was important in order to meet the challenge of our countrymen to join the national politics," she said.
Duterte said their mission is not only to win our campaign but to win the aspirations of their countrymen, especially the needy, the unemployed, farmers, youth, senior citizens, LGBTQs, workers, women, and other sectors that need help from the government.
"I call on my HNP colleagues to forge on and build the strongest region we can ever be, in devoted service to the Filipino people," she added.
Duterte's vice-presidential candidacy is under Lakas-CMD and was filed by a representative on November 13, quickly followed by the announcement of the Partido Federal ng Pilipinas that they are adopting the daughter of President Rodrigo Duterte as the running mate of its standard-bearer, Ferdinand "Bongbong" Marcos Jr.
Duterte originally resigned from HNP on November 11 after dropping her reelection bid in Davao City. (PNA)