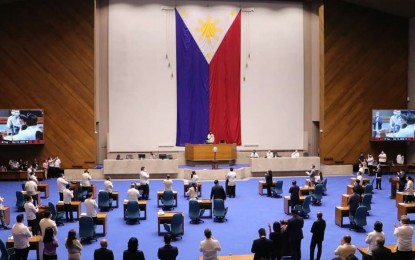 MANILA – The House of Representatives on Monday approved on second reading a proposal that would extend the availability of the 2021 national budget until December next year.
The lower chamber approved through voice voting House Bill 10373, authored by ACT-CIS Party-list Rep. Eric Go Yap, that would amend Section 62 of the General Provisions of Republic Act 11518 or the General Appropriations Act (GAA) of Fiscal Year 2021.
The proposed amendment would extend the availability of the 2021 appropriations until Dec. 31, 2022.
Yap said the coronavirus pandemic curbed the opportunities for socio-economic growth and development.
He also noted that it brought "disruptions" in the operations of government, which then caused delays in the release and issuances of budget allocations.
"Nearing the end of the year, there are still programs, projects, activities funded by the 2021 GAA that are very much needed by the Filipino people, especially those in the most vulnerable sector," he said.
He said extending the availability of this year's budget would allow the agencies to fully utilize the allocations to implement government programs and projects and to ensure that the intended beneficiaries of these basic services are reached.
The 2021 national budget, he said, would strengthen the country's response against the pandemic, as well as boost economic recovery.
"The GAA of 2021 centers on the philosophy that more than our priorities for a responsive and dynamic governance, the focus of our resources shall also be directed to the most urgent priority – to reset our momentum and action, rebound from the devastating effects of the pandemic on the health and economy and fully recover from current and continuing impacts of the crisis," Yap said. (PNA)