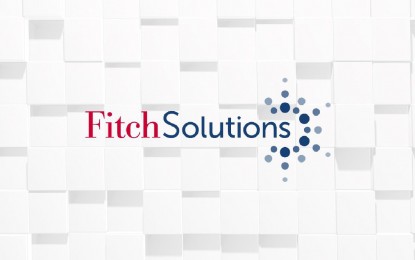 MANILA – Fitch Solutions expects the Bangko Sentral ng Pilipinas (BSP) to keep key rates steady this 2021 but forecasts a total of 75 basis points increase in the policy rates in 2022 as the economy recovers.
In a report, the financial information services company noted monetary authorities' bid to continue to support the economy as economic challenges remain and as the domestic inflation rate is still elevated.
"We at Fitch Solutions forecast the BSP to begin its hiking cycle in 2022, forecasting the policy rate to rise from 2.00 percent as of end-2021 to 2.75 percent by end-2022," it said.
During the rate-setting meeting of the central bank's policy-making Monetary Board (MB) last November 18, the Board kept anew the BSP's key policy rates, with the overnight reverse repurchase (RRP) rate at a record-low two percent.
BSP's key policy rates have been slashed off a total of 200 basis in 2020 as part of the central bank's measures to help keep the economy afloat during the pandemic.
Fitch Solutions said the MB's decision last week is widely expected "given the Philippines' economic challenges through 2021."
"Indeed, despite financial market's becoming increasingly hawkish over the Philippines monetary policy tightening cycle, expectations are for hiking to begin in 2022," it said.
The report explained that with the latest rate decision of the Board real policy rate remains in negative territory at -2.6 percent.
This, as average inflation rate as end-October this year stood at 4.5 percent, above the government's 2-4 percent target band.
The rate of price increases in the country has decelerated to 4.6 percent last October after hitting 4.9 percent last August, the highest since January 2019.
Authorities attribute the elevated inflation rate to supply-side factors such as the supply of pork, among others, because of the African Swine Fever (ASF), and the increases in global oil prices.
Fitch Solutions forecasts inflation to stay at the upper half of the government's target band, with the average seen at 3.7 percent until 2022.
It sees "a more aggressive monetary tightening cycle from the BSP" if core inflation, which excludes volatile food and energy items, registers faster increases.
Last October alone, core inflation slowed to 2.5 percent from month-ago's 3.5 percent. The average core inflation to date is at 3.6 percent.
Relatively, Fitch Solutions said the low policy rate in the country, on the back of monetary tightening in major economies, is expected to weigh on the local currency, which is currently trading at 50-level against the greenback. (PNA)