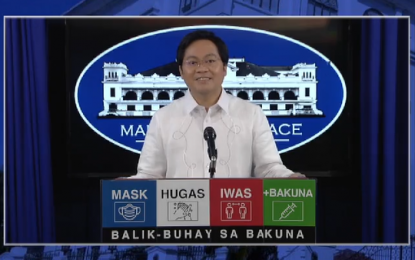 MANILA – The Duterte administration will continue upholding press freedom, Malacañang said on Tuesday as the country commemorates the 12th year of the infamous Maguindanao massacre.
In a Palace press briefing, Cabinet Secretary and Acting Presidential Spokesperson Karlo Nograles pointed out that it was during the current administration where key members of the powerful Ampatuan clan were found guilty of the 2009 massacre that left 58 persons, including 32 journalists, dead.
"Ngayong araw inaalala natin ang mga naging biktima ng Maguindanao massacre. Kung inyong matatandaan, sa ilalim ng kasalukuyang administrasyon nakamit natin ang katarungan para sa mga biktima ng naturang kaso pagkatapos mahatulan ang mga napatunayang may sala nung 2019 (Today we remember the victims of the Maguindanao massacre. As you may recall, under the current administration we have achieved justice for the victims of such a case after convicting those found guilty in 2019)," Nograles said.
"Patuloy po natin sinusulong ang kalayaan sa pamamahayag (We continue to uphold freedom of the press)," he added.
The Philippine National Police (PNP), in a separate statement, extended prayers for the victims of what they described as a "murderous act of violence committed in the history of Philippine elections."
"We fervently pray for the eternal repose of the souls of the departed even as we continue to wage a nationwide campaign to stem the culture of politically-motivated violence," PNP spokesperson Col. Roderick Alba said.
"We take note of the fact that the PNP has been instrumental in serving the end of justice with the arrest of the accused held responsible for the death of 58 persons, among them 34 journalists, in this single incident of mass murder," he added.
As the 2022 election season is now within sight, Alba said the PNP is taking early actions to foil attempts by warlord politicians to employ and mobilize private armed groups that will apply force to influence the outcome of the elections.
He said PNP will be decisive as ever in seeking to disband and disarm these private armed groups simultaneous with interdiction operations as they will deny these PAGs the economic support systems that sustain its operations thru criminal activities such as robbery, kidnapping, drug trafficking, smuggling, illegal gambling, and other illegal ventures.
"The PNP takes shelter under the authority bestowed by Comelec as its deputized agency to meet head-on any and all threats to the May 2022 elections," Alba said.
On Dec. 19, 2019, judge Jocelyn Solis Reyes of Branch 221 of the Regional Trial Court (RTC) of Quezon City convicted Datu Andal Ampatuan Jr. and Zaldy Ampatuan, the masterminds of the infamous Maguindanao massacre, of 57 counts of murder and sentenced them to reclusion perpetua without parole.
A total of 28 other co-accused including police officers were also convicted of 57 counts of murder and sentenced to 40 years, while 15 other accused were sentenced to six to 10 years for being accessories to the crime.
Ressa's case
Meanwhile, Nograles distanced himself from giving comments about calls made by the lawyers of Nobel Prize winning journalist Maria Ressa to drop charges against her.
This after Amal Clooney, a human rights lawyer representing Ressa, said the government needed to decide whether to "double down on its persecution of this lone journalist" or show that it did not fear criticism and "once again is a beacon for liberty and democracy around the world".
Nograles said the Palace will leave it up to the court to decide on Ressa's charges.
"Yung kaso po ay nasa korte na at siyempre the judiciary is a co-equal branch ng Executive at nirerespeto po natin yung judiciary and our courts. At tayo po ay malaki ang ating confidence level siyempre at paniwala sa ating courts of law that they will do the proper thing (The case is already in court and of course the judiciary is a co-equal branch of the Executive and we respect the judiciary and our courts. We have a high confidence level of course and belief in our courts of law that they will do the proper thing)," he said.
Ressa was convicted of "cyber libel" in June 2020. She also faces several other charges, including tax evasion, to which she has pleaded not guilty.
In October, Ressa and Dmitry Muratov won the Nobel Peace Prize for their fights to defend freedom of expression in the Philippines and Russia. (with reports Christopher Lloyd Caliwan/PNA)