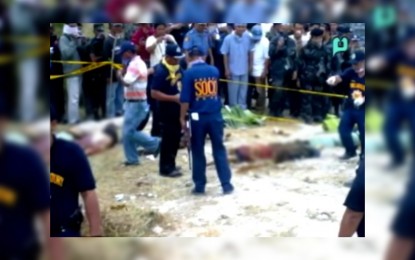 MANILA – The Presidential Task Force on Media Security (PTFoMS) on Tuesday said it is one with the nation in commemorating the Maguindanao massacre, which it tagged as one of the darkest moments in Philippine history and vowed to capture all suspects who are still at large.
"We shall relentlessly pursue suspects at large. We will not stop until all suspects behind this heinous crime are arrested," PTFoMS Executive Director, Undersecretary Joel Sy Egco said in observance of the 12th anniversary of the infamous massacre that happened in Barangay Salman, Ampatuan, Maguindanao.
On that date, a convoy of about 58 people on their way to Shariff Aguak town in Maguindanao to file the certificate of candidacy of then Maguindanao gubernatorial candidate Esmael "Toto" Mangudadatu was ambushed by around a hundred armed men. Aside from the 31 journalists and media workers, among those killed were Mangudadatu's own wife and two sisters, and 12 other relatives and supporters, two lawyers and a father of one of the lawyers, two drivers, plus six passersby.
After the conviction of main suspects and masterminds in 2019, Egco said five suspects have already been apprehended by the police since 2020 and are now undergoing trial.
During a recent interview with Net25's "Ano sa Palagay Nyo" hosted by Ali Sotto and Pat Daza, Egco said media violence in the country is directly related to the political environment. "Sa isang lugar na nagbabangayan at nagpapatayan at nagkakagulo mga politiko, ganon din po may mga media na nahaharass."
He added that many acts of violence against media practitioners usually happened during election season.
"Lagi po nating pinapaalalahanan ang ating pong mga taga-media na every election season ay delikado kaya mag-ingat po tayo (We always remind our media friends that every election season is dangerous so we should always take precautions," Egco said, pointing out that election season in the country generally lasts for about a year.
He enjoined media workers to strictly adhere to the principles of truth, accuracy, and objectivity in their reporting.
When asked why the country is still included in the Global Impunity Index of the Committee to Protect Journalists, Egco said the 10-year time frame in the computation is the reason why we are still included in the index, but promised that the country will be soon out of the list.
"Number 2 tayo because of the Maguindanao Massacre. For the longest time bago po pumasok (ang PTFoMS) nung 2016, number 4 tayo nun. Nung 2017, nag number 5 na po tayo because the CPJ recognized the establishment of the PTFoMS, up to the point na nagkaroon ng conviction sa Maguindanao Massacre nung December 2019. Marami po na convict including the main suspects at mga masterminds. Nung 2020 tayo po ay tinanghal na biggest mover actually doon sa index, meaning, from number 5 tayo yung pinakamalaking jinump to number 7. Unti-unti na tayong aalis doon (We are number 2 because of the Maguindanao massacre. For the longest time before the PTFoMS entered in 2016, we are at number 4. In 2017, we are number 5 because the CPJ recognized the establishment of the PTFoMS, up to the point when we had a conviction for the Maguindanao massacre in December 2019. Many people have been convicted, including the main suspects and the masterminds. In 2020, we were named as the biggest mover actually in the index, meaning from number 5, we had the biggest jump at number 7. We are slowly leaving from there)," Egco said during the interview.
"In connection with commemorating one of the most horrible events for journalists, we call on our honorable Senators' approval of the Media Workers Welfare Act as an added protection for the economic vulnerability of our journos," Egco continued, "no less than Senate President Vicente Sotto III has sponsored the bill, but it has yet to be enacted into a law."
Egco pointed out that economic vulnerability is one of the problems facing our media workers right now. The MWWA seeks to grant journalists and media workers with hazard pay, living wage, safety equipment, security of employment plus additional insurance and hospitalization benefits.
The Maguindanao Massacre was the worst election-related violent incident in recent Philippine history and the single deadliest event for journalists in the world. Ten years later, through the immense support of President Rodrigo Duterte, it will be recalled that on December 19, 2019, Judge Jocelyn Solis-Reyes of the Quezon City Regional Trial Court (RTC) Branch 221 found eight members of the Ampatuan clan and 20 others guilty for 57 counts of murder and meted them with the penalty of reclusion perpetua (up to 40 years imprisonment) without parole. Fifteen (15) other accused were sentenced to 6–10 years for being accessories to the crime.
Aside from former Autonomous Region in Muslim Mindanao Governor Zaldy Ampatuan, likewise found guilty as principals and sentenced to reclusion perpetua without parole were his brothers Datu Andal "Unsay" Ampatuan Jr., Datu Anwar Sajid "Datu Ulo" Ampatuan, Datu Anwar "Datu Ipi" Ampatuan Jr., Insp. Saudi Mokamad, PO1 Jonathan Engid, Abedin Alamada, Talembo "Tammy" Masukat, Theng P. Sali, Manny Ampatuan, Nasser Esmael, C/Insp. Sukarno Dicay, Supt. Abusama Mundas Maguid, and Supt. Bahnarin Kamaong.
Also found guilty were Datu Anwar Ampatuan Sr., Tato Tampogao, Mohades Ampatuan, Mohamad T. Datumanong, Misuari Ampatuan, Taya Bangkulat, Salik Bangkulat, Thong Guiamano, Sonny K. Pindi, Armando Ambalgan, Kudza Masukat Uguia, Edres Kasan, Zacaria P. Akil, and Samaon Andatuan.
The PTFoMS was created by President Duterte in 2016 in order to safeguard press freedom by protecting the life, liberty and security of media workers in the country, a first in the world.
In the 2020 Director-General Report on the Safety of Journalists and the Danger of Impunity released by the United Nations Educational, Scientific and Cultural Organization (UNESCO), the UN body cited gains made by the Duterte administration through PTFoMS in the realm of media safety, such as the setting up or strengthening of monitoring mechanisms to track attacks against journalists which have contributed to better reporting on the safety of journalists; the putting up of measures to prevent crimes against journalists; and the establishment of specific bodies dedicated to ensuring the prosecution of crimes against all media workers. (PR)