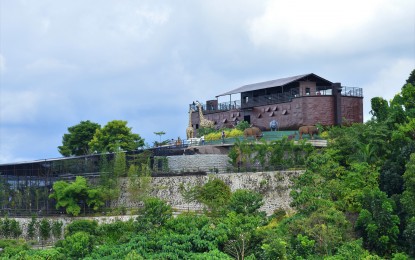 CAGAYAN DE ORO CITY – The family of a 68-year-old man who was bitten by a crocodile inside an adventure park in Sitio Sto. Niño, Barangay Indahag here will no longer press charges against the resort's management after both parties have come to an understanding.
In a phone interview Tuesday evening, Mercy Joy Chipada, daughter of the victim, said their family and the Amaya View management have come to an agreement signed by both parties.
"Our concern is for our father to be taken care of. That's what we are after. He is now recovering from the surgery," she said.
The victim was identified as Nehemias Chipada, of Barangay Aposkahoy, Claveria town in Misamis Oriental.
On November 10, Chipada, who was then celebrating his birthday, sustained injuries on his left arm from a bite by one of the crocodiles placed in a fenced enclosure at Noah's Ark, just one of the amenities at Amaya View, a mountain resort overlooking the city's urban district.
Chipada's family posted on social media that the sexagenarian thought the crocodile was just a replica prompting him to climb a few feet down the animal's shelter to get near the immobile reptile and tap its head.
A video circulating on Facebook showed Chipada wading in the shallow pond where the crocodile, moments after the head-tapping, locked its jaws on the old man's left arm.
Seconds after, Chipada was heard shouting for help as the 12-foot crocodile let go of his arm.
Blood was seen splattered on the pond's greenish water. His right hand was also injured.
It was reported that one of the crocodile's teeth was lodged on Chipada's arm.
Photos on Facebook showed Chipada and his family posing and taking photos with concrete replicas of animals before the incident.
The incident was picked up by a talk show that airs on national TV, and also has a YouTube channel online that caught wider public attention.
In a statement, the Amaya View management said it has extended financial assistance for the medical expenses of the patient.
"Our company nurse responded immediately; she administered first-aid as he (Chipada) was rushed to the nearest hospital. He is currently at the Northern Mindanao Medical Center where he had his operation, and is now recovering in a suite room," it said.
The company added it remains committed to settling all of Chipada's medical bills until he is fully recuperated. "We hope and pray for his fast and complete recovery."
The resort said it condemns the dissemination of false information on social media about the incident and appealed to the public to refrain from posting any derogatory statements against the patient and his family.
"As a family-oriented resort, Amaya View takes the responsibility of ensuring our guests' safety with paramount importance and we will continue to be dedicated to our vision and mission of providing safe, fun, and educational attractions and adventures for everyone," the resort statement added.
In a separate interview, Peter Guibone, Amaya View's general manager, assured that its facilities are safe even for children as schools have conducted tours for their students inside the adventure park before the pandemic.
Guibone said that since it started its operations in 2017, Amaya View has not had an accident, especially involving its wild and domesticated animals kept inside the premises of Noah's Ark, a structure that resembles the biblical water vessel that saved Noah, his family, and thousands of animals from the great flood.
"This is the first time that such an accident happened," Guibone said, adding that they did not expect the incident as the crocodile's pit was fenced and has warning signs of wild animals inside the facility.
He said three crocodiles are kept within Noah's Ark, aside from snakes, different types of birds, tigers, peacocks, alpacas, and various farm animals.
"We have zookeepers who take care of our animals and an (available) veterinarian to check their health," the manager added.
In a television interview, Candy Unabia, Amaya View's chief operating officer, said they have ensured that Chipada was properly taken care of and that the management has not been remiss in reminding its guests of the presence of wild animals inside the adventure park. (PNA)