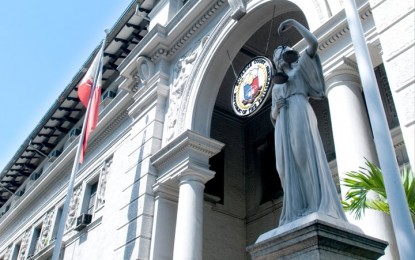 MANILA – The Supreme Court (SC) has affirmed the presidential prerogative in choosing the best course of action in handling territorial disputes with other countries, particularly in the West Philippine Sea (WPS).
In a nine-page decision penned by Associate Justice Rodil Z. Zalameda on June 29 but released on November 18, the high court dismissed "for utter lack of merit" a petition filed by lawyer Romeo M. Esmero who accused President Rodrigo Duterte of "inaction/failure" to perform his duties in connection with the WPS dispute with China.
Esmero, in his petition, said the filing of diplomatic protests against China is "not a defense", saying the proper way for the Philippines to act is to ask the United Nations to send UN patrol boats and sue China before the International Court of Justice (ICJ) to demand payment and damages for taking the Kalayaan Island.
In its decision, the Court said no law justifies the action sought by the petition for the President to go to the UN or the ICJ to sue China nor is there any law which prescribed specifically how the President is to respond to any threat from another state.
The SC noted that a decision in the case against China before the United Nations Convention on the Law of the Sea (UNCLOS) had been handed down on July 12, 2016, but "If President Duterte now sees fit to take a different approach with China despite the said ruling, this does not mean that he has unlawfully abdicated his duty to protect and defend our national territory."
"Being the head of state, he is free to use his own discretion in this matter, accountable only to his country in his political character and to his own conscience," the court added.
The high tribunal also noted that the court cannot substitute its own judgment for the exercise of the President's discretion, noting that the court is the government "branch that knows least about the national security concerns".
"Ultimately, the decision of how best to address our disputes with China (be it militarily, diplomatically, legally) rests on the political branches of government. While we are loath to give a "blank check" especially where the risk of grave abuse of discretion may be high, we cannot have an entrammeled executive who will be ill-equipped to face the amorphous threats and perpetrators whose malign intent may be impossible to know until they strike," the court added. (PNA)