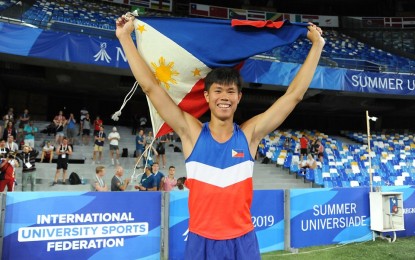 MANILA – A lawmaker at the House of Representatives on Wednesday filed a resolution seeking a congressional inquiry on the alleged harassment of the Philippine Athletic Track and Field Association (PATAFA) against Olympian EJ Obiena.
Aside from the probe, Manila 2nd District Representative Rolando Valeriano also asked the House Committee on Youth and Sports Development to review the rules and relationships of the national sports associations (NSAs), athletes, and stakeholders under the Philippine Sports Commission Law.
Obiena, together with his legendary Ukranian coach Vitaly Petrov, sought a retraction and public apology from the PATAFA after the federation accused Obiena of falsifying liquidation documents on his coach's salaries and that he be made to answer the accusation.
Obiena, 25, competed in the Tokyo Olympics and holds the Asian record in the sport. He is now ranked No. 5 in the world.
Valeriano said PATAFA's actions are tantamount to harassment, allegedly an indication of the NSA's failure to promote Obiena's welfare or even sabotage of the career of a distinguished national athlete.
"The actuations of these NSAs, like the PATAFA, may already be detrimental, not just for our athletes, but for our sports ecosystem. I am not generalizing the NSAs, but some of them, instead of concentrating on sustainable sports development programs, looking for and nurturing the "next" world-class Filipino athlete, just engage in endless politicking and bickering," Valeriano said.
He emphasized the need for NSAs to not be heavily dependent on government funding, adding that they should continually generate private sector support instead.
"Their officials should go out of their way to communicate with and support our athletes, and not humiliate them in public with baseless accusations. If upon review and we find that most NSAs do not contribute, but are even detrimental to the growth of our sports programs, then let's revise all the rules of the PSC's engagement with them under RA 6847," he said.
The Philippine Olympic Committee (POC) has expressed deep regret over Obiena's predicament in his own federation and vowed to look into the issue that has put the Olympian pole vaulter in an ugly situation.
"We are in deepest regret to realize that one of our Olympians, multi-medalist and great inspiration Ernest John Obiena of athletics, to be involved in this squabble with his home federation," POC president Rep. Abraham "Bambol" Tolentino said.
Tolentino said Obiena's declaration to retire at this stage of his globally budding career would be a great loss for Philippine Sports.
"I am very disappointed. They could have handled the situation internally absent of any misfires from both parties," Tolentino said. "A bountiful career is now in peril."
Meanwhile, PATAFA stands by its decision to investigate how the pole vaulter has been paying his coach for his services.
In a statement on Monday, PATAFA said the probe was based on a statement Petrov submitted to them backed up by a signed affidavit from one of his former prized wards, current Ukraine Olympic Committee president Sergey Bubka.
"Obiena has reported to PATAFA that he had turned over Petrov's salary from May 2018 to August 2021 on time. Records, however, revealed that Obiena had settled obligations with Petrov only recently this month and not during the months that he had officially reported having paid his coach's salary," the PATAFA statement read. (PNA)