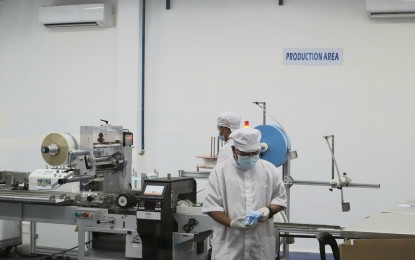 LAOAG CITY – A locally-made surgical face mask that speaks of safety and durability is ready to expand its market reach with the help of the Department of Science and Technology (DOST) in Region 1.
DOST Region 1 Director Armando Q. Ganal said Thursday the agency takes pride in having assisted a local businessman from Agoo town in La Union province in realizing an innovative start-up project and become the first mass manufacturer of surgical face masks in Northern Luzon.
Produced by ModulHaus Incorporated owned by Richard S. Chan, the pioneering face mask production facility in Northern Luzon features a box of 500 individually wrapped face masks for every user's protection from being infected with virus.
At present, some government agencies in the region have started using the locally-produced face mask. With a PHP5-million aid under the DOST's Small Enterprise Technology Upgrading Program (SETUP), Ganal shared his excitement on Thursday saying the power of science and technology is indeed changing the lives of the people.
Through the agency's continuing SETUP project which provides financial aid to small and medium enterprises, Chan's firm was able to purchase one unit of automatic mask making machine and at two units of automatic ear tape applier with a capacity that can produce 739,200 surgical face masks per month.
During the formal inauguration and launching of the face mask production facility in Barangay San Marcos, Agoo, La Union on Thursday, Chan said he is grateful for the DOST assistance that enables them to produce four-ply face masks at high speed.
According to Engr. Edison Acosta, officer-in-charge of the DOST La Union, the locally-manufactured face mask produced in the province has passed international standards and is now being commercialized in some parts of the province.
With the DOST's OneStore digital marketing arm to provide an e-commerce platform for high-quality Filipino products from its assisted micro, small and medium enterprises, Acosta said talks are now underway to promote the product to a wider market not only in Region 1 but also to its neighboring regions.
"Let us patronize our own products," he said as he reported the producer has already acquired its License to Operate and Certificate of Product registration from the Food and Drug Administration (FDA).
The establishment of the face mask production facility is already the second phase of SETUP aid to ModulHaus Inc. since 2016 when it first acquired an automated panel saw machine for a precise and speedy cutting process of boards used in the production of modular products such as kitchen, wardrobe and pantry cabinets, restaurant and console tables, bathroom and vanity fixtures, and other architectural and interior office features.
With the prolonged pandemic, the company saw an opportunity to start another line of business which is the mass production of surgical face mask to address the shortage of surgical masks in the region and ensure its availability in the market at a lower cost. (PNA)