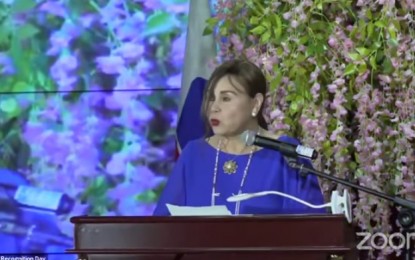 MANILA – Investments in Philippine Economic Zone Authority (PEZA) have reached PHP4.02 trillion for the past 26 years, its director general Charito Plaza reported Thursday.
During the PEZA Investors Recognition Day 2021, Plaza said these investments came from 4,670 locators in 415 economic zones across the country.
PEZA ecozones continue to grow over the years from 16 zones in 1996.
PEZA locators are export-oriented companies, thus contributing a total of USD916.53 billion worth of exports for the past 26 years.
Plaza said PEZA has created more than 1.73 million direct jobs and over 8.63 million indirect jobs.
"It is also the very fabric of PEZA's existence --to bring development to every Filipino family by creating sources of livelihood and income. PEZA has been ardently pursuing this for the last 26 years," she added.
Plaza said PEZA aims to create more ecozones across the country and come up with new types of ecozones.
Since her leadership in PEZA, Plaza has been pursuing the creation of halal hubs and production zones; mineral processing economic zones; free trade zones in international airports and seaports; logistics parks; creative, culture and arts tourism special economic zones; renewable energy eco-industrial park; retirement homes and wellness and naturopathy villages; island capital cities of world special economic zones; knowledge innovation and science technology parks; and defense industrial complex.
Excellence Award
The PEZA has recognized various locators for their outstanding performances in terms of exports, community projects, environmental projects, and coronavirus disease 2019 (Covid-19) response.
The outstanding employers for this year are Reed Elsevier Philippines, Concentrix Daksh Services Philippines Corp., Concentrix CVG Philippines, Inc., JT International Asia Manufacturing Corp., ING Business Shared Services, and Brother Industries Inc.
PEZA's outstanding exporters for this year are Dyson, MinebeaMitsumi, Inc., Continental Temic, Concentrix, and Optum Global Solutions Philippines, Inc.
PEZA locators such as Reed Elsevier, Brother, JTI, Continental, Philippine Sinter Corp., OnSemiconductors, Inc., QBE Group Shared Services Ltd., Canon Business Machines Philippines, Inc., and WeServ Systems international, Inc. received the Outstanding Community Project Award.
For the Environmental Performance Award, PEZA recognized WeServ, Brother, Denso Ten Philippines Corp., and TDK Philippines Corp.
PEZA has given the Covid-19 Response Award to TDK, Brother, WeServ, Amkor Technology Philippines, Inc., Asurion Techlog Center Philippines, Cognizant Technology Solutions, Inc., Conduent Business Services Philippines, Inc., Continental, Denso Ten Solutions Philippines Corp., HSBC Electronic Data Processing Philippines, Inc., Keppel Philippines Marine, Inc., Nestle Business Services AOA, Inc., Nexperia Philippines, Inc., Quantrix Enterprises, Inc., Teradyne Philippines Ltd., and Texas Instruments Philippines, Inc.
The PEZA has given the Galing Pinas Award to Texas Instrument, Epson Precision Philippines, Inc., Nidec Philippines Corp., Wu Kong Singapore Pte. Ltd., Canon, Cargill Oil Mills Philippines, Inc., Del Motne Philippines Corp., and Pilipinas Kao, Inc.
This year's hall of famers are STMicroelectronics, Inc., BE Aerospace, and Sutherland Global Services Philippines, Inc. as outstanding exporters; and Denso Philippines Corp for its outstanding community project; Canon, Analog Devices, Inc., and Samsung Electro-mechanics Philippines Corp for their environmental performances.
This year's Billionaire's Awardees, or those companies that have reached their exports revenue at USD2 billion, are Philippine Associated Smelting and Refining Corp., Texas Instrument, and Toshiba Philippines, Inc. (PNA)