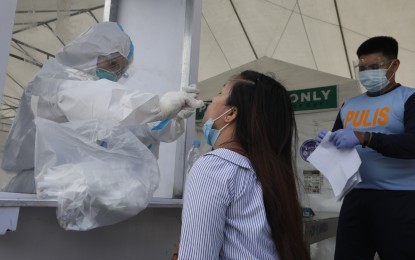 MANILA – The Philippines temporarily suspended testing and quarantine protocols for countries/jurisdictions/territories classified as "green" starting Monday until December 15, Malacañang said on Sunday.
The Inter-Agency Task Force for the Management of Emerging Infectious Diseases (IATF-EID) approved the revised guidelines, Cabinet Secretary and acting Presidential Spokesperson Karlo Nograles said in a press statement.
Green list destinations are classified as "low-risk based on disease incidence rate.
Except for countries classified as "red" or those at "high-risk" which are banned from entry, testing and quarantine protocols for all inbound international travelers in all ports of entry will comply with the testing and quarantine protocols for "yellow" list (moderate risk).
That is, three-day quarantine for fully vaccinated travelers even with a negative Covid-19 test result and and five days for the unvaccinated, with incomplete doses or without a negative Covid-19 test result.
The IATF also suspended Resolution No. 150-A (Series of 2021) providing for the entry of fully vaccinated nationals of non-visa required countries from green list countries/jurisdictions/territories.
The IATF likewise approved the recommendations to strengthen local Covid-19 response which include enjoining local government units (LGUs) to heighten their alert for increasing and clustering of cases and emphasizing the need for active case finding; immediate conduct of contact tracing and isolation of cases detected from case surveillance among the community, including domestic and international travelers; and use of reverse transcription polymerase-chain reaction (RT-PCR) testing in order to allow whole-genome sequencing of collected samples.
The Regional Epidemiology and Surveillance Units have been directed to ensure targeted selection of samples for sequencing and address declining submissions of laboratories and regions from domestic and international travelers.
The Bureau of Quarantine and the Department of the Interior and Local Government, with LGUs, have been directed to identify and locate passengers who arrived within 14 days prior to November 29 from countries classified as red, and require them to complete home quarantine for two weeks from date of arrival and undergo RT-PCR tests if symptoms develop.
They are also tasked to ensure strict implementation and adherence to the Prevent-Detect-Isolate-Test-Reintegrate strategy and adherence and compliance to minimum public health standards.
The Department of Health is directed to ensure health system capacity is prepared to address increase of Covid-19 cases, if any, while the sub-technical working group on data analytics must begin preparing models to show the potential impacts of the Omicron variant. (PNA)