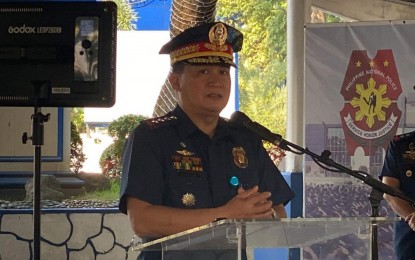 MANILA – Philippine National Police (PNP) chief, Gen. Dionardo Carlos, on Monday vowed tougher sanctions against police operatives found involved in illegal activities.
He said the PNP leadership is serious in implementing the "no-take policy" as part of the campaign against all forms of illegal gambling, adding that the guideline includes "all forms of material or monetary considerations.
"Kung meron man nagsabi sa kanila order po ito ni chief, wala po akong order. No take po tayo diyan. Ngayon yung mga (If they claim it was an order by the chief, I did not make that order. The PNP is still implementing a no take policy. Now, all) regional directors are taking it upon themselves to implement this at the different levels)" he said in a press conference in Camp Crame, Quezon City.
Carlos also reminded all the PNP officers and personnel of the importance of preserving their dignity as law enforcers and public servants mandated to serve and protect the people and their communities.
Meanwhile, the National Capital Region Police Office (NCRPO) under Maj. Gen. Vicente Danao Jr. is continuously producing significant results under its relentless campaign against illegal drugs and gambling, most wanted persons, and loose firearms to ensure peace and order in Metro Manila.
Danao said the NCRPO intensified its fight against the war on drugs, resulting in the confiscation of PHP90.1 million worth of illegal drugs in 1,092 anti-drug operations from October 16 to November 15 this year.
"As NCRPO strengthened and revitalized its units involved in law enforcement they were able to arrest various drug suspects and their cohorts. A total of 1,904 drug personalities have been arrested," Danao said.
In support of the "no-take policy", the NCRPO launched 643 illegal gambling operations, arrested 1, 898 persons, and confiscated more than PHP334,000 bet.
The NCRPO also intensified drive against criminals, arresting six most wanted persons at the national level, 458 at the regional and district level, and 588 other wanted persons during the same period.
A total of 153 loose firearms were confiscated and 134 individuals were arrested in 592 operations via "Oplan Katok". (PNA)