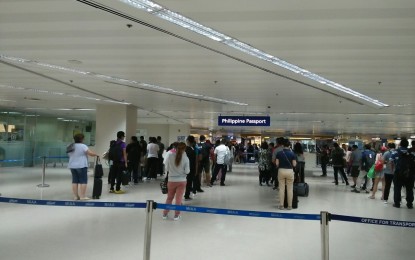 MANILA – The Bureau of Immigration (BI) on Monday said the Inter-Agency Task Force for the Management of Emerging Infectious Diseases (IATF-EID) has suspended a plan to reopen the country to foreign travelers amid the threat of new Covid-19 Omicron variant.
"The IATF deemed it necessary to suspend the entry of foreign tourists, given worldwide concerns over the Omicron variant," BI Commissioner Jaime Morente in a statement.
"For now, the current general travel restrictions stand. Only Filipinos, balikbayan, and those with long term visas from green and yellow list countries may be allowed entry," he added.
He said travelers from seven European countries have also been barred from entering the country.
The nations that have been added to the IATF's "red list" from Nov. 28 to Dec. 15 are Austria, Czech Republic, Hungary, The Netherlands, Switzerland, Belgium, and Italy.
"Those coming from red list countries within the last 14 days prior to arrival shall not be allowed to enter the Philippines," he added.
Morente said the IATF ruling allowed the entry of Filipinos, who may be assisted in their return via government and non-government repatriation and Bayanihan flights, but will be subject to the health protocols as set by the Bureau of Quarantine (BOQ).
He added that those already in transit from red list countries who will arrive before Nov. 30, if part of the allowable classes, may enter the country and will also be subjected to BOQ protocols.
Meanwhile, BI Port Operations Division chief lawyer Carlos Capulong reminded airline companies to carefully inspect the document of travelers prior to boarding to ensure that only those allowed entry may fly to the country.
"We are conducting 100 percent passport inspection to ensure that we see the complete travel history of the arriving passengers," he said.
Capulong said aliens who are inadmissible but were allowed to board will be denied entry, and will warrant a penalty to the erring airline. (PNA)