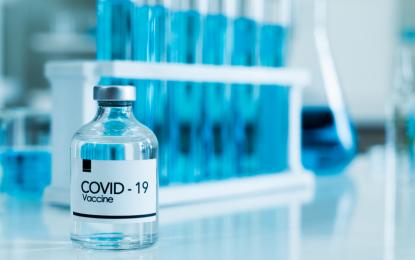 MANILA – The vaccination support initiative of International Container Terminal Services, Inc. (ICTSI) and Bloomberry Resorts Corp. has administered over 300,000 doses of mRNA Moderna vaccines since ICTSI-sponsored vaccination sites in Solaire Resort and Casino and at the Nayong Pilipino Foundation (NPF) property in Parañaque City opened midyear.
The Solaire-ICTSI Foundation Vaccination Center–Nayong Pilipino Foundation (SIVC-NPF), which opened in August, administered 158,515 doses, while the SIVC–Solaire administered 150,737 doses for a combined total of 309,252 doses as of Nov. 22.
On an average, the SIVC-NPF administers close to 1,000 doses daily, while the SIVC-Solaire administers about 600 doses daily.
The two sites recorded the highest rollout last Nov. 13 with a combined total of 5,537 doses.
The vaccine rollout, including the installation of support facilities, is part of the 20 million doses joint procurement of Moderna vaccines by the national government and the private sector represented by ICTSI.
Of the 20 million doses, 13 million were allotted to the public sector, while 7 million to the private sector.
To facilitate the logistics of the bulk order, ICTSI installed a temporary cold storage and drive-through vaccination facility in a 10,000-square-meter lot within the NPF property.
The PHP250-million facility was built by ICTSI at no cost to the government.
"We are heartened by the turnout of vaccinees and have received positive feedback from them on the speed and efficiency of the process in both sites -- from registration to the actual queuing and inoculation, which takes only about 15 minutes. If you successfully register today, you will be scheduled the following day. Before opening, we simulated the entire process for timing," ICTSI executive vice president Christian Gonzalez said.
In both sites, health services providers and ICTSI and Solaire staff strictly follow the mandates of the Inter-Agency Task Force for the Management of Emerging Infectious Diseases and the Department of Health on contactless transactions and other safety protocols, including the rollout of vaccines according to priority groups.
Both sites are now administering vaccines for adolescents and have started administering booster shots for A1 to A3 groups and front-liners.
Meanwhile, Gonzalez said the SIVC-NPF has a design capacity to inoculate 15,000 persons a day during National Vaccination Days on Nov. 29 to Dec. 1.
The NPF facility currently hosts eight ambulatory vaccination centers and 30 drive-through booths.
It is the country's first mega vaccination site to serve residents from Metro Manila and nearby provinces.
The SIVC–NPF has been successfully turned over to the Parañaque City government with ICTSI continuing its help in the operations of the vaccination site.
Once completed, wait for the text advisory on the date and schedule of the vaccination including a link to a QR code.
The site is located along New Seaside Drive, PAGCOR Entertainment City. Shuttle services for non-motorists are provided to and from SM Sucat. (PR)