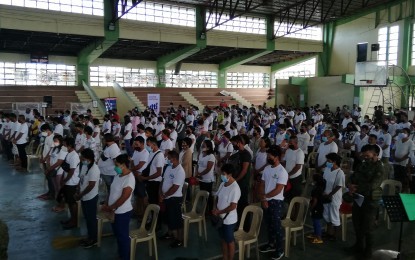 MANILA – Over 20,000 people linked to the Communist Party of the Philippines-New People's Army-National Democratic Front (CPP-NPA-NDF) have surrendered and abandoned the local armed struggle through the effective whole-of-nation approach of the National Task Force to End Local Communist Armed Conflict (NTF-ELCAC).
During the virtual press briefing of the NTF-ELCAC on Monday, Defense Undersecretary and Task Force Balik Loob (TFBL) chair Reynaldo Mapagu disclosed that since the start of President Rodrigo Roa Duterte's administration, the government has recorded a total of 20,579 surrenderers, which included 5,262 NPA fighters, 3,414 members of Militia ng Bayan, 7,626 mass supporters, and 2,224 underground mass organization members.
Mapagu said these former rebels have revealed to authorities the locations of 51 NPA arms caches nationwide yielding 245 firearms and 100 improvised explosive devices (IEDs) and anti-personnel mines (APMs).
"The recovery of these arms cache is reflective of the dwindling warm bodies in the NPA which is a result of the efforts of the NTF-ELCAC, the continuous military and police operations and the Enhanced Comprehensive Local Integration Program (E-Clip), the government's flagship program for the reintegration of former members of the CPP-NPA-NDF," Mapagu said.
Mapagu added that the government has spent over half a billion pesos in various programs to aid former rebels to live peaceful and productive lives.
P500 million aid for ex-rebels
He said as of November 28, a total of PHP485,462,013 worth of assistance were given to 6,418 individual former rebels nationwide. Of the total, 6,164 of them received immediate cash assistance; 3,744 were given livelihood assistance; 5,198 for reintegration assistance; and 1,430 received remuneration from surrendering their firearms.
Mapagu said the firearms surrendered by the former rebels were all destroyed to show that "there are no so-called recycling of these firearms" and also to end their role as weapons of violence.
He also said there are 623 former rebels who already joined the Armed Forces of the Philippines (AFP), with 66 of them "are now enlisted in AFP's regular forces," while the remaining 557 former rebels are now members of Citizen Armed Force Geographical Unit (CAFGU).
"E-CLIP assistance is not rewards but rather investments in the country's human capital and an opportunity that former rebels … have a better future with their families," Mapagu said.
He added that those found or validated as former regular members of the Communist Terrorist Groups (CTGs) are accorded with various assistance programs such as psychological development, housing and livelihood projects that include their family members who would be sheltered at a community away from the influence of the CPP-NPA-NDF.
Once former rebels are integrated back into the community, Mapagu pointed out, it is at this stage that, the NTF-ELCAC's Barangay Development Program (BDP) enters.
"It's our weapon to end the insurgency. At may puwang na para sila ay magbalik (And they have been given chance to return) as productive citizens," Magpagu said.
NTF-ELCAC projects for people
On the other hand, Escalante City Mayor Melecio J. Yap Jr. of Negros Occidental lamented that the budget cuts or even the abolition of NTF-ELCAC and its BDP proposed by some of the country's lawmakers will hinder the progress that was started in his far-flung barangays that were formerly infested by CTGs.
Yap said that 90 percent of BDP projects in his city are almost 100 percent implemented, and the abolition of the task force and the BDP will hamper the development and progress at the grassroot level.
"Nakakalungkot. Dumaan din naman ako [as lawmaker], alam natin na meron silang [some senators and congressmen] mga projects na di man lang kinukunsulta kahit ang mga mayors. Ang NTF-ELCAC direct sa tao. Sila ang tinatanong ano suggestion. Idedefund pa nila. Yung sa kanila pang-pulitika lang. Ito para sa tao, para matigil ang temptation to join the NPA (It's sad. I was also a lawmaker, we know that they have projects that they did not consult with mayors. The NTF-ELCAC projects are direct to people. The people are asked for suggestion. Then now the lawmakers will defund. Their projects are for politics. These [NTF-ELCAC] projects are for the people so they will not be tempted to join the NPA)," Yap said.
He cited that his constituents spend about PHP300 per ton as additional costs in transporting sugar cane, which is their main source of income.
"Baba na ang presyo pag-natapos magawa ang mga kalsada (The costs will go down once the roads are finished)," Yap said referring to the farm to market roads that were built under the BDP.
"Nakiki-usap ako, iwasan ang sobrang pamumulitika. Pakinggan niyo kaming mga nasa baba. Ang mga projects na ito ay kailangan tapusin (I'm appealing, avoid too much politics. Listen to us in the grassroots. These projects should be finished)," Yap pleaded.
Yap even challenged those who proposed the abolition of the NTF-ELCAC and criticized the BDP to visit Escalante and to see for themselves the projects that have been implemented without the so-called politicking but only for the purpose of helping his constituents to have better lives.
Trust of rebels to gov't
Escalante City is a flash point of activities of the CPP-NPA-NDF as revealed by former rebel "Ka Eric Almendras" who said that through E-CLIP, the government have earned the trust and confidence of returning rebels who saw this Administration's sincerity of reaching out and helping them get back to society.
"Kami'y mga buhay na katotohanan na nagsasabing ang gobyerno ang nagbigay sa amin ng pag-asa (We are the living proofs that the government gave us hope)," Almendras said.
Meanwhile, Almendras rejected the unfounded accusations made by national officials such as Vice President Leni Robredo's previous pronouncement that the NTF-ELCAC is just a duplication of what other government agencies are already doing while all it does is "carelessly red-tagging".
"Hindi po yan [red-tagging] iniimbento. Kami ang evidence support. Buhay na mga testimoniya, na sila at ang kanilang mga party-list ay nakasama namin. Ang tawag diyan- trust security exposition, para pangalagaan ang bayan (Red tagging is not invented. We are evidence support, living testimonies that they and their party-list group members have been with us. It is called 'trust security exposition, to protect the nation)" Almendras said.
Denounce CPP-NPA-NDF
He added that Robredo's sudden change of heart that she is now one with the NTF-ELCAC must translate into action.
"Ituloy sana sa pagdedenounce (sa CPP-NPA-NDF) na siya namang mandato ng bawat lingkod bayan (I hope she will also denounce the CPP-NPA-NDF. That is part of the mandate as people's representative)," Almendras said.
For his part, Prosecutor Flosemer Chris Gonzales, Regional Task Force - ELCAC 6 spokesperson, said the sudden change of heart by Robredo is proof that she is now enlightened of the NTF-ELCAC's goals, and cautioned some candidates to "stop maligning the NTF-ELCAC."
"Our struggle for peace transcends beyond politics," Gonzales said. (PR)