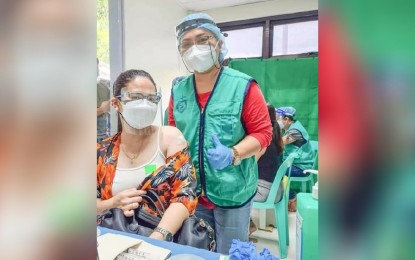 DAVAO CITY - Inspired by revolutionary hero Andres Bonifacio's patriotism and selflessness, some Dabawenyos think that in this time of the coronavirus disease 2019 (Covid-19) pandemic, anybody could become heroes in their own way - no matter how big or small the contribution.
In an interview with the Philippine News Agency, Kyol Pilapil, a nurse, said that people who decide to get vaccinated are as much a modern-day hero as front-liners like her. She lauded how residents here have shown exemplary effort in responding to the nation's call and setting aside differences for the greater good of all.
"Let's not forget our front-liners who risk their lives every day to get everyone's jabs accessible. Without these efforts from the citizens and front-liners, (population) immunity will never be achievable," she said on Tuesday, Bonifacio Day.
As a front-liner with first-hand experience in Covid-19 quarantine procedures, Pilapil said she had to deal with the fear of the unknown, not knowing if she or her family would get infected by the virus.
"It is difficult to take care of Covid patients and at the same time be vulnerable to the disease itself. With that being said, I believe we are each other's heroes. Save lives, get vaccinated," she added.
Like Pilapil, Jimm Musa, a government employee, believes that the people have a social responsibility to strive for the greater good and make a reflective decision to be of service to the nation.
"Choosing to be vaccinated in this unpredictable time means caring and protecting yourself, your family, your community, and the whole country. By acting upon the critical problem in your way, it doesn't only make you a problem-solver but also as a modern hero," he told PNA.
Musa also urged the public to unleash the hero in them by educating their friends, colleagues, and family members who are still hesitant to be vaccinated as it is the only weapon to completely win against the Covid-19 battle.
Everybody's a hero
Apart from front-liners and those who got vaccinated, those behind the formulation of the vaccines should also get proper credit and be considered modern-day heroes too, according to another resident, Rosemarie Baguio.
"Through science and technology coupled with the brilliant minds and skills of medical experts, scientists, and all those people behind the Covid-19 vaccines, a spark of hope was ignited. They too are our heroes," she said.
Baguio said that getting vaccinated is the public's best shot at getting out of the woods and helping keep our economies afloat.
"I know that people have varying opinions and reservations about the vaccination rollout. It might be due to fear or lack of confidence as to how it was developed and how our bodies will react to it. I get and respect it," she said.
Baguio admitted that she was at first reluctant in getting the Covid-19 jab, but soon realized that she had to do her fair share in the fight against the unseen enemy.
"I told myself that I'd rather do something despite being afraid than do nothing at all and regret it in the end. It took me a lot of courage to finally get the jabs a few months ago but it was worth the try. I did not do it solely for myself but for the people I love as well- my family," she added.
Getting vaccinated, she said, is a manifestation of one's willingness to save and protect the lives of others.
"I consider all of you the modern heroes of this peculiar time. You responded to the government's call for unity and cooperation. You did your part in helping end this pandemic despite the possible risks and safety concerns at hand," Baguio added.
She also cited other "Bonifacios" - medical and non-medical front liners, government leaders, essential workers, and even those night-time and early shifters delivering goods and services or cleaning the streets - who battle the threat of the pandemic head-on.
"Thank you to all of you. Almost two years into this pandemic yet we are still holding on to one other stronger than ever. May we never lose the spirit of heroism in us," Baguio said. (PNA)