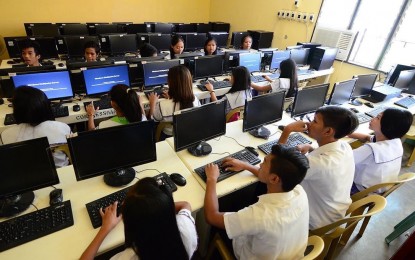 MANILA – A measure establishing Public Schools of the Future in Technology to advance digital technology and innovation has hurdled final reading approval at the House of Representatives.
During Wednesday's plenary session, a total of 221 lawmakers voted in favor of House Bill No. 10329, or the Public Schools of the Future in Technology (PSOFT) Act, which aims to harness technological innovations, processes, and instruments in facilitating teaching and learning processes that would enhance the performance of students and teachers. No one voted against the bill nor abstained from voting.
Albay Representative Joey Salceda, author of the bill, said it aims to ensure that there is adequate investment in digital and technological infrastructure for the country's public schools.
"There shall also be courses for higher-order skills from emerging industries such as artificial intelligence, big data, and other frontier technologies. Of course, these changes would require investment in teachers, which this bill also hopes to secure," Salceda said.
The bill also improves the country's basic education framework to allow for expanded online learning.
"Education and technology can no longer be separated. We need technology in education, and this has been made much clearer during the Covid-19 pandemic," Salceda said.
The bill includes a provision that mandates that the Department of Education (DepEd), Department of Information and Communication Technology, and Philippine Space Agency shall immediately include in their respective programs the implementation of the proposed law, the funding of which shall be included in the annual General Appropriations Act.
Salceda said education reforms are critical especially as the country is facing an expanding skills gap.
"The global economy has become skills-based and highly interconnected. Most of global wealth is now information-based. In a presentation I delivered to the Committee on Higher and Technical Education, I argued that knowledge is now the wealth of nations. Our citizens will now have to be able to go toe-to-toe with citizens from other countries," Salceda said.
He noted that measures of the global competitiveness of Filipino learners show "disappointing" results.
He cited the results of the 2018 Programme for International Student Assessment (PISA) revealing that the Philippines scored 353 in Mathematics, 357 in Science, and 340 in Reading, all below the average of participating OECD countries.
"This is the reason we need to invest in education reform and infrastructure," Salceda said.
Salceda also said the Philippine industries complain about a lack of skilled workers.
"BPOs (business process outsourcing) have vacant seats because they could not hire enough Filipinos who can deliver more than a good English accent and actually solve user problems. Our skills gap is also reflected in the makeup of our labor force," he said.
He said craft and related trades workers, while growing, are only at 6.4 percent of the workforce.
The country, he said, has more managers at 9.3 percent than skilled workers.
He added that more than a quarter of the country's labor force are in "elementary occupations," or work that requires a lower level of skills.
"We are a country of diplomas, but not necessarily of skills. Imagine, we have more managers than skilled workers in this country. This is untenable in a skills-based global economy. We need to change this with meaningful education reforms to emphasize skills. Diplomas are like bouncing checks if they are not backed by real skills in our graduates," he said. (PNA)