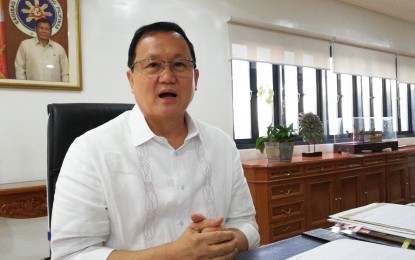 MANILA – Department of Human Settlements and Urban Development (DHSUD) Secretary Eduardo del Rosario on Wednesday said the government gains from pushing through decent and affordable housing units for all Filipinos should be sustained.
In a statement, del Rosario said the government "remains steadfast in fulfilling its commitment" to providing resilient, safe, and affordable shelters to the public, especially to underprivileged families.
He said in November alone, the government has initiated around seven housing projects catering to more than 3,500 families nationwide.
"Through DHSUD, the government is now expanding its reach to assist more Filipino families to avail of decent and affordable homes they can call their own," he said.
Among these projects are the Uswag Low-Rise Residential Building in Barangay San Isidro, Jaro District, Iloilo City; three-story Marangal Village Homeowners Association Inc. High Density Housing (HDH) in Brgy. Longos, Malabon City; and a four-story Samahang Magkakapitbahay Na Nagkakaisa HOA Inc. HDH in Brgy. San Agustin, Novaliches, Quezon City.
These housing projects are being carried out by the DHSUD's key shelter agency Social Housing Finance Corporation (SHFC) in coordination with the local government units (LGUs) for each area.
The Malabon housing project will benefit 282 member-families of a local homeowners' association.
While the Novaliches' newly constructed settlement building will accommodate 92 informal settler families (ISFs) living along the danger zones of the Tullahan River.
Recently, del Rosario led the groundbreaking and ceremonial turnover of check donation for land development of the 1Bataan Village in Orion, Bataan province.
Some 2,936 housing units are expected to accommodate ISFs from the dangerous prone areas in the province.
Another two housing projects are now being rolled out, benefitting some 143 ISFs in Baler, Aurora.
Del Rosario also signed a pact for the soon-to-be-constructed resettlement facility in Palayan City.
"The agreement will pave the way for the construction of a socialized housing project," he said.
The Palayan resettlement project will be led by the National Housing Authority (NHA), through the allocation of developers' incentivized compliance to balanced housing.
Del Rosario likewise approved the Provincial Development and Physical Framework Plan of South Cotabato for the 2020-2028 period, in the promotion of industrial development "without causing harm to the environment."
"These housing projects are solid testaments of the Duterte administration's commitment to providing resilient, safe, and affordable shelters to all Filipinos, especially the underprivileged," del Rosario said. (PNA)