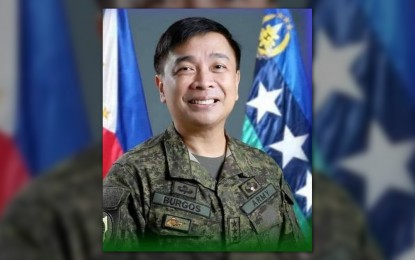 MANILA – Armed Forces of the Philippines (AFP) chief, Lt. Gen. Andres Centino has lauded the accomplishments of Lt. Gen. Arnulfo Marcelo B. Burgos Jr., who formally retired after 37 years of service on Wednesday.
Burgos, who retired as Northern Luzon Command (Nolcom) chief, is Centino's classmate in the Philippine Military Academy (PMA) Class of 1988.
"My classmate and my friend for many years, the men and women of the AFP, the Philippine Army, and your classmates at PMA can never be prouder with what you have attained, serving various capacities in the AFP," Centino said in a statement.
He added that the achievements by the Nolcom, despite the challenges posed by the pandemic and the prevailing territorial disputes in their area of responsibility, attest to Burgos' capabilities as an outstanding military leader and public servant.
During Burgos' term as Nolcom chief, which started in September 2020, three guerilla fronts – KLG SIS, KLG QNV, and KLG Sierra Madre – were dismantled and a total of 2,285 members of the threat groups were either killed, captured, or have surrendered.
The Nolcom also significantly reduced the enemy's ability to conduct atrocities with the seizure of a total of 340 firearms along with 300 improvised explosive devices.
Air and naval assets under the Nolcom's operational command were also able to conduct more than a thousand flying hours of maritime patrols and maritime air surveillance and support to maritime law enforcement operations and almost two thousand steaming hours of maritime surface patrols and sealift support operations.
A total of 13 sovereign markers have been installed in uninhabited islands in Batanes Islands and Babuyan Group of Islands for security and strong assertion against foreign occupation.
To further assert Philippine sovereignty, a solidarity maritime patrol was also conducted in Commemoration of the Philippine Rise last June 12.
A desalination plant system was also constructed in Mavulis Island to provide a potable source of water to support fishermen and the troops deployed in the area. (PNA)