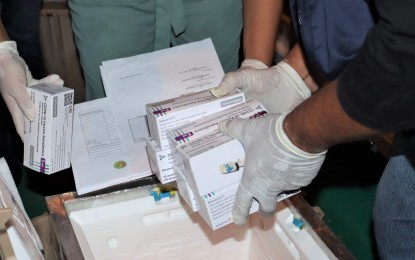 BACOLOD CITY – The Negros Occidental provincial government has reported a total of 1,492 vials or 14,920 doses of AstraZeneca vaccines expired on November 30.
Provincial Administrator Rayfrando Diaz II said on Thursday they have submitted a report to the Department of Health (DOH)-Western Visayas through regional director Adriano Suba-an, who will also refer the matter to the national Inter-Agency Task Force for the Management of Emerging Infectious Diseases.
An incident report was prepared by Dr. Claudelia Josefa Pabillo, in-charge of the Provincial Health Office cold room facility.
"We value our vaccines. We want to use them. We do not delay, but we value more the vaccinees. We don't want to inject vaccines that are about to expire," Diaz told reporters.
He noted that since the vaccine's potency decreases as the period of expiry nears, administering these could give false sense of security to the recipient and even endanger the vaccinee and his or her family.
Diaz added that local government units have also refused to accept vaccines that were about to expire.
Meanwhile, Pabillo said the expired jabs were part of the 4,530 vials or 45,300 doses that arrived in Negros Occidental on November 8.
She added that most of the vaccines from the said batch have been administered, but the province was unable to distribute the rest as the expiration neared.
Some LGUs were hesitant to accept them and with the arrival of more vaccine brands, they also had other choices, she added.
Pabillo said the expired vaccines are still stocked in the cold room, but separated from the rest of the vaccine supplies.
"We can't throw these out because these are biological products. There is a different method for its disposal," she added. (PNA)