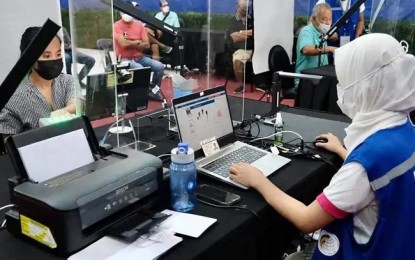 DAVAO CITY- Philippine ID cards of at least 52 residents of Barangay Bago Aplaya who registered for the Philippine Identification System (PhilSys) are now available for pick up.
In a recent post, the barangay said the latest group of residents is the 11th batch of registrants to receive their PhilID cards in the area.
"If your names are found in the list please proceed to the Barangay Hall-Secretary's office and look for Barangay Secretary Victor Mamac," the post read.
To claim their national IDs, registrants are advised to bring their own ball pen, PhilSys transaction slip, any ID or Safe Davao QR.
For those who will authorize someone to get their ID on their behalf, they should bring the additional requirements: authorization letter signed by the cardholder, and ID or Safe Davao QR of the one who was authorized to claim the national ID.
The Philippine Statistics Authority (PSA) recently announced that more than one million PhilID Cards have been delivered to cardholders, while three million more are ready for delivery nationwide by the Philippine Postal Office (PHLPost).
The PSA is targeting to process the PhilSys registration of up to 50 million by the end of 2021, and 70 million in 2022.
The PSA earlier apologized for the delay in the delivery of their PhilID cards due to quarantine restrictions and other reasonable circumstances.
Signed into law by President Rodrigo R. Duterte in August 2018, Republic Act 11055, or the Philippine Identification System Act, aims to establish a single national ID for all Filipinos and resident aliens.
The national ID shall be a valid proof of identity that shall be a means of simplifying public and private transactions, enrollment in schools, and the opening of bank accounts.
It also seeks to boost efficiency, especially in dealing with government services where people will only need to present one ID during transactions. (PNA)