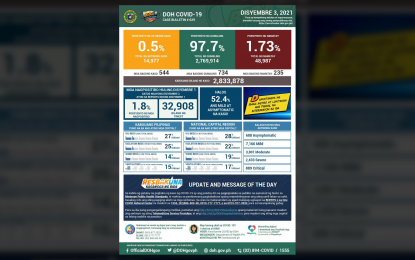 MANILA – The number of active coronavirus disease 2019 (Covid-19) cases in the Philippines remained on a downtrend, despite recording 544 new infections on Friday.
In its daily Covid-19 bulletin, the Department of Health (DOH) said the active case tally has further declined to 14,977 -- lower than Thursday's 15,188.
In its daily Covid-19 bulletin, the Department of Health (DOH) reported that most of these active cases have mild symptoms at 7,166, followed by those with moderate symptoms at 3,801, those with severe symptoms at 2,433, those in critical condition at 889, and the asymptomatic at 688.
Friday's fresh cases are also slightly lower than Thursday's 564.
Another 734 new recoveries also raised the number of recovered cases nationwide to 2,769,914 out of a total of 2,833,878 confirmed infections since the start of the pandemic.
An additional 235 deaths, meanwhile, brought the death toll to 48,987.
Based on the latest data on Covid-19 testing, there were 32,908 tests administered on Wednesday—with 1.8 percent found positive for the disease.
The utilization of hospital beds and ventilators remains low nationwide, with 3,600 beds at intensive care units (ICU) at 27 percent occupancy, 19,600 isolation beds at 25 percent occupancy, 13,000 ward beds at 14 percent occupancy, and 15 percent of 3,100 ventilators are in use.
In Metro Manila, there are 1,300 ICU beds at 28 percent occupancy, 4,700 isolation beds at 22 percent occupancy, 3,900 ward beds at 19 percent occupancy, and 17 percent of 1,000 ventilators are in use. (PNA)