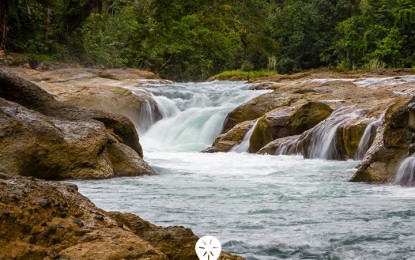 TACLOBAN CITY – The village of Tenani in Paranas, Samar, known for its extreme riverboat ride, has been listed as one of the runners-up in the United Nations World Tourism Organization's (UNWTO) Best Tourism Villages for 2021.
The village of Bojo in Aloguisan, Cebu made it to the list of the 44 Best Tourism Villages in the world, the UNWTO announced on Friday night.
"Home to the Ulot Torpedo Boat Adventure Ride and the Paranas Eco-Trail and Birding Site, Tenani will be included in the UNWTO's Upgrade Program," Department of Tourism 8 (Eastern Visayas) Director Karina Rosa Tiopes said in a Facebook post.
According to the UNWTO, the Upgrade Program will benefit villages that did not meet the Label criteria.
These villages will receive support from the UNWTO and its partners to help improve the "gaps" found during the evaluation process.
Also included in the Upgrade Program are Ordino, Andorra; Khinalig, Azerbaijan; Koprivshtitsa, Bulgaria; Kaštelir Labinci, Croatia; Agros, Cyprus; Fuwah, Egypt; Western Samos, Greece; Hollókő, Hungary; Biei, Japan; Capulálpam de Méndez, Mexico; Godinje, Montenegro; Gornja Lastva, Montenegro; Oukaimeden, Morocco; Gasura, Rwanda; Gostilje, Serbia; Gorenja Vas, Slovenia; Cantavieja, Spain; Bo Suak, Thailand; and Ruboni, Uganda.
The UNWTO evaluated these villages based on cultural and natural resources, promotion and conservation of cultural resources, economic sustainability, social sustainability, environmental sustainability, tourism potential and development and value chain integration, governance and prioritization of tourism, infrastructure and connectivity, health and safety, and security.
Tenani is known for the Ulot River Extreme Torpedo Boat Ride that transforms a portion of Samar's longest river into a haven for nature lovers and extreme boat ride enthusiasts.
The activity is part of the Ulot Watershed Ecotourism Loop, which houses recreation sites, such as the Taft Philippine Eagle Sanctuary, Pangpang Falls, Can-maanghit Falls, Lusungan Falls, Yabon Falls, Liaw Cave, Silay Cave, Catingcoy Cave, Pugtak Spring, Duloy Spring, Sulfan Spring, and Nasarang Spring.
Developing the site for eco-tourism kicked off when the Department of Environment and Natural Resources pushed for the convergence of various efforts to combat illegal logging and provide alternative livelihood. The destination is being managed by former illegal loggers.
The area has 885 flowering plant species, 406 of which are endemic.
The Ulot Watershed has vast water resources. Its annual runoff of 815 million cubic meters is more than enough to provide for the area's domestic water requirement of about 7.5 million cubic meters, according to the International Model Forest Network. The total length of its streams is 520 km.
The river is accessible by land and air.
Paranas is a second-class town in Samar province with a population of 32,374. It is 97 km. north of Tacloban City, the regional capital. (PNA)