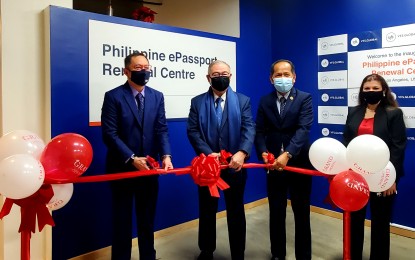 MANILA – The Department of Foreign Affairs (DFA) opened a Philippine passport renewal center in Los Angeles, the first in North America, to cater to the growing demand for the service.
The DFA on Saturday said it is a testament to the Philippine government's "untiring push to make consular services more accessible" to overseas Filipinos worldwide.
"The Philippine ePassport Renewal Center (PaRC) system supplements and strengthens the consular operations of our 94 embassies and consulates around the world. It radically reduces the pressure to get more things done faster and faster until more and more mistakes are made or the public is condemned to slower and slower service," DFA Secretary Teodoro Locsin Jr. said during the inauguration on December 3.
Locsin said the new renewal center would be operational even on weekends.
"Filipinos here in Los Angeles and in the surrounding states need not worry about missing work obligations or other inconveniences caused by an 8-to-5-time window. I know you work so hard to make a life out here, and we will make sure that the PaRC works harder for you to help you achieve that end," he said.
The Philippine Consulate General in Los Angeles serves the largest section of overseas Filipinos in the entire region.
VFS Global, the largest outsourcing and technology services specialist for governments and diplomatic missions worldwide, currently operates ePassport Renewal Centers on behalf of the DFA in Dubai and Abu Dhabi in the United Arab Emirates; Riyadh, Jeddah, and Al Khobar in the Kingdom of Saudi Arabia; Edinburgh, Cardiff, and Belfast in the United Kingdom; Dublin in Ireland; Marseilles in France; Singapore; Kuwait; and in Los Angeles.
Passport renewal applicants for LA PaRC must set an appointment via services.vfsglobal.com/usa/en/phl/. (PNA)