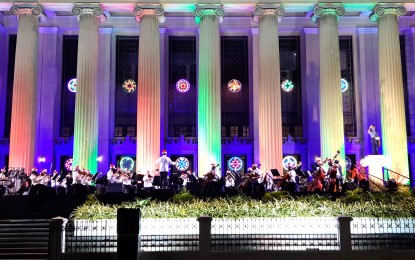 MANILA – The coronavirus disease 2019 (Covid-19) pandemic drastically changes lives around the world.
Even the prestigious Philippine Philharmonic Orchestra (PPO) had to stop playing for nearly two years.
On Friday, the PPO was back on center stage, thanks to the Philippine Postal Corporation (PHLPost).
Members of the resident orchestra of the Cultural Center of the Philippines (CCP) found the experience new and overwhelming, a live performance at the Manila Central Post Office at Liwasang Bonifacio to mark the launch of the Christmas stamps.
"So ngayon live, mas okay 'yung feeling. Meron nagkukumpas talaga. Actual person na conductor. Mas authentic 'yung feeling, hindi siya naka-fix na tempo. Lahat ng flow ng music mas alive 'yung tunog (Now we are live, the feeling is good. We have an actual conductor. The feeling is more authentic, it is not on fixed tempo. The flow of music and sound are more alive)," said Jerry Graham Gonzales, a PPO cello player for seven years now, in an interview after their performance.
Despite being the orchestra's concert master for 10 years now, Dino Decena said he felt nervous, the feeling he got when he first performed before a live audience.
"Bumalik 'yung kaba eh kasi wala kaming performance in two years eh so iba naman 'yung mag-perform nang nasa harapan ng camera. Ito live eh so 'pag me nanonood na tao, medyo iba 'yung feeling, Nakakakaba talaga (I felt nervous once again especially because we did not perform for two years. It's different when you perform in front of a camera than when you have an audience)," Decena said.
He also expressed optimism that things are on their way back to normalcy and they will get to perform more.
"Hopefully sunod sunod na 'to, matigil na 'tong pandemic na 'to kasi kawawa yung mga musician. 'Yung mga performers most of the time nasa bahay lang kami nagre-record, online concerts, pero ngayon dahil live, medyo bago lahat. Nakakapanibago (this will be the start of continuous shows, that this pandemic ends because musicians are affected. Most of the times, we are just at home recording or for online concerts. But now that we are live, it feels new. It's different)," he added.
National Commission for Culture and the Arts chair and CCP president Arsenio Lizaso agreed that artists and musicians perform better when they feel the audience.
"We are tremendously happy. We've been looking forward to something like this because I've always believed in that magical moment between the performer and the audience. It's got to be live and with the presence of a physical audience, it makes the artist, performer, musicians better performers, that's why I'm so happy about it," Lizaso told the Philippine News Agency.
Decena also offered words of encouragement.
"Never lose hope. Importante 'yung hope. Like kami mga musician, we're hoping na mawala na 'to, itong pandemic na 'to matapos na. Kailangan optimistic lang so maski naghihirap kailangan. We have to look at the positive side. Lahat naman merong ibig sabihin eh. Kailangan lang natin i-endure (Hope is important. Like us musicians, we are hoping that this pandemic ends. We have to be optimistic even if it seems difficult. Everything has a purpose. We just have to endure)," he said.
The Christmas stamps depict how Filipinos celebrate Christmas while dealing with the Covid-19 pandemic.
"As we celebrate the Christmas season, let us bring inspiration, hope, and joy through music especially to those who have lost their loved ones amid the pandemic," PHLPost General Manager Norman Fulgencio said, as he dedicated the event to all front-liners and thanked them for their resilience, courage, and selfless service. (PNA)