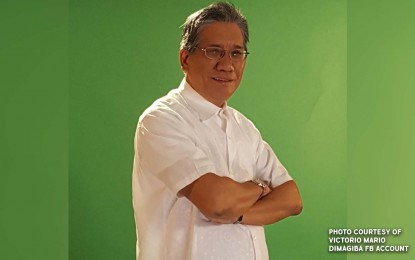 MANILA – Consumer rights advocacy group Laban Konsyumer Inc. (LKI) has raised the urgency for Food and Drug Administration (FDA) action on ensuring toy manufacturers' strict compliance with Republic Act 10620 or the Toy and Game Safety Labeling Act of 2013.
LKI president and former trade undersecretary Vic Dimagiba said the latest findings of public interest network EcoWaste Coalition on non-compliance with RA 10620 necessitate the need for FDA's action on the matter to help protect children nationwide from harmful toys.
Dimagiba recommended that EcoWaste formally report such findings to FDA Director-General Dr. Rolando Enrique Domingo himself as soon as possible so this network can highlight the urgency for compliance with RA 10620.
"LKI is willing to join the demand that FDA applies such law," he said Tuesday during the virtual press conference of EcoWaste on toy safety.
RA 10620 states that "all toys and games locally or internationally manufactured that are imported, donated, distributed and sold in the Philippines shall comply with the appropriate provisions on safety labeling and manufacturer's markings found in the Philippine National Standards for the safety of toys."
"Label or labeling refers to the display of written, printed or graphic matter on any consumer product, its immediate container, tag, literature or other suitable material affixed thereto for the purpose of giving information as to identify components, ingredients, attributes, directions for use, specifications and such other information as may be required by law or regulations," RA 10620 also reads.
EcoWaste campaigner Thony Dizon said the network purchased various children's toys sold in Metro Manila, Central Luzon, and Calabarzon (Cavite, Laguna, Batangas, Rizal and Quezon) to determine these products' compliance with RA 10620 and other toy safety-related regulations.
"Only about 4 percent of those toys are labeled accordingly," he said.
Dizon said some of the toys are tainted with lead, a chemical element that is harmful to children's health and development.
He said EcoWaste will heed Dimagiba's suggestion for this network to inform FDA about such findings.
"We'll furnish (the) FDA a copy of those findings as soon as possible," he added.
Dimagiba said LKI will also help inform consumers about RA 10620 so they can better make informed choices on what toys to give children.
"I'll give this corresponding space and remind parents especially now that (the) government is encouraging people to go out and shop," he said.
According to FDA, its mandate is to "ensure safety, efficacy or quality of health products which include food, drugs, cosmetics, devices, biologicals, vaccines, in-vitro diagnostic reagents, radiation-emitting devices or equipment, and household/urban hazardous substances, including pesticides and toys, or consumer products that may have an effect on health which require regulations as determined by the FDA."
Dimagiba also sees a need to scrutinize how well FDA did so far in carrying out its mandate.
FDA's issuance of numerous advisories means nothing to consumers if this agency fails to enforce relevant laws and regulations, he said.
During the press conference, EcoWaste presented several ways which consumers can do to help them choose safe toys for children, including scrutinizing information shown in labels of toys to determine product contents and manufacturing details.
Dizon said consumers must choose toys that are appropriate for the age and capacities of children.
He said they should avoid toys with features that can physically harm children.
Consumers likewise must buy toys from reputable stores and ask for receipts to prove purchase of these products from such establishments, he added. (PNA)