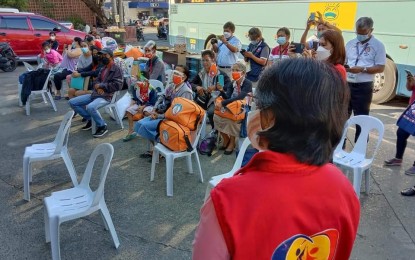 SAN FERNANDO CITY, La Union – A total of four families returned home on Tuesday and will now settle down in La Union province through the "Balik Probinsya, Bagong Pag-asa" (BP2) program of the national government.
Novem Fe Antonio, 39, a cancer patient and one of the BP2 beneficiaries, said the program is a "great opportunity" for her to start a small business given her health condition.
"It was difficult for me to stay in the metro since I got cancer two years ago. I couldn't work already and I could not easily get my treatment due to the pandemic. So when I learned about BP2, I immediately grabbed the opportunity," she said in a phone interview.
She worked in Metro Manila for eight years.
Antonio and her sister are among the beneficiaries of the housing units offered by National Housing Authority (NHA).
In a separate interview, Department of Social Welfare and Development (DSWD) Ilocos Region BP2 focal person Reysa Pilotin said the families are composed of 17 individuals.
She added the four families were from the National Capital Region and will now settle down in their hometown in Sudipen, Aringay, Naguilian towns, and this city.
Each of the families received a family food pack from the provincial government, and their transportation was shouldered by the DSWD-1, Pilotin said.
"The payout for their transitory family support package and livelihood settlement grants worth not more than PHP50,000 for each family is to follow. Hopefully, it will be given to them before the year ends," she said.
The NHA provided the families from Aringay and San Fernando City 40-square-meter housing units in Aringay, La Union, Pilotin said.
"They signified that they have no houses to return to," she added.
Pilotin said those who did not qualify for the housing grant from NHA will be assessed by the Municipal Social Welfare and Development Office of their localities for the transitory shelter assistance.
A husband and his wife from Ilocos Sur also headed home through the BP2 program on Tuesday.
They will also receive family food packs and other assistance under the program.
A tripartite memorandum of agreement was signed by the DSWD, local government unit (LGU) of destination, and beneficiaries.
"We are in coordination with the Municipal Social Welfare and Development Office of the LGU to monitor the beneficiaries. If in the future they would violate the agreement, they will no longer be part of any program," she said.
They are part of the 25 families scheduled to go home and settle permanently in the Ilocos Region within the year through the BP2 program of the national government.
Among the reasons cited by those who availed of the BP2 are loss of jobs or other sources of income, unsafe current dwelling places, exposure to health and safety risks, and other environmental hazards.
The BP2 is a program of the national government that addresses congestion in Metro Manila by encouraging dwellers, especially informal settlers, to return to their home provinces and assist them during the entire process. (PNA)