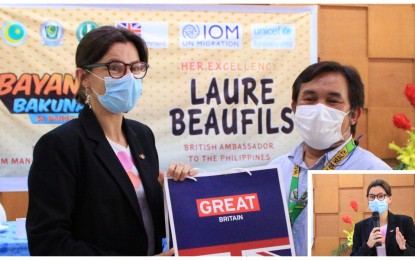 COTABATO CITY – The United Kingdom (UK) government has reiterated its support to the Bangsamoro government in its fight against the coronavirus disease 2019 (Covid-19) and to its other programs in the region.
In her Tuesday meeting with Bangsamoro Autonomous Region in Muslim Mindanao (BARMM) leaders and other development partners here, British Ambassador to the Philippines Laure Beaufils said collaboration and partnership could get things done on the ground.
"Only through these types of partnerships can we make things happen. We have partnerships of trust, genuine understanding, and two-way learning that we can get things done and make sure sustainable. We are proud to have supported the work you have done," Beaufils said.
She was referring to the ongoing UK government grant in partnership with the United Nations Children's Fund (UNICEF) - Philippines to support Covid-19 prevention efforts in the region through a project called "Improving Covid-19 Vaccine Acceptance and Overcoming Covid-19 Vaccine Hesitancy and Refusal in BARMM."
The project aims to build stronger capacities of BARMM government institutions in risk communication.
"The UK government is proud and happy partnering with the (region's) Ministry of Health (MOH), the Bangsamoro Information Office, Bangsamoro Youth Commission, UNICEF, and IOM (International Organization for Migration). We are proud to have supported the work you have done," she said.
Dr. Bashary Latiph, the BARMM health minister, said the intervention from the UK government did not only help the region's fight against Covid-19 but also the other health programs in the region.
"We hope to have conversations that will not only help augment the Cocvid-19 response in the region but will also have an impact on the overall development of health systems through the MOH," Latiph said in a statement delivered by Saida D. Ali, MOH's information officer.
Beaufils said the UK government is investing in the future, through education and health, to build the ideal communities for the children.
She highlighted the need to focus on mental health, given how the pandemic has affected young people in particular.
She said while the partnership has helped reduce the virus infection rate in the region, Beaufils admitted that there is a lot more risk out there.
"We should all continue to focus on vaccination and prevention. Vaccination is essential, it is our first line of defense, and we are happy to support it here. It is a priority for us nationally," she said.
Dr. Amirel Usman, the MOH director-general, said the support given by the UK to the BARMM government has been timely and valuable in terms of helping the Bangsamoro, especially the youth, get correct information on Covid-19 prevention and vaccination.
"We must collaborate to combat Covid-19 and keep the Bangsamoro people healthy and safe. The Bangsamoro government will do whatever it takes, collaboration with development partners and communities, to help get through this crisis and rebuild better once the virus has been defeated," Usman said.
The UK government recently donated an additional 5.2 million doses of AstraZeneca vaccine to the Philippines through the COVAX facility, with 415,000 doses given bilaterally, bringing the total to approximately 5.6 million doses. (PNA)