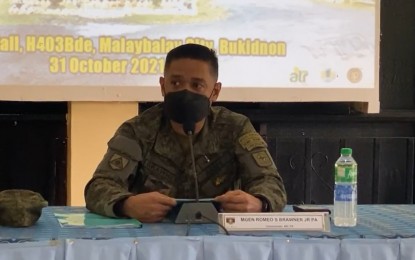 MANILA – President Rodrigo Duterte has named 4th Infantry Division commander Maj. Gen. Romeo Brawner Jr. as the new Commanding General of the Philippine Army.
Defense Secretary Delfin Lorenzana confirmed Brawner's appointment in a message to reporters.
He also shared a copy of Duterte's letter, dated December 7, confirming the name of the next commanding general of Army.
"I wish to inform you that, per your letter-endorsement and in accordance with the recommendation of the Chief of Staff, Armed Forces of the Philippines (AFP) and Chairman, AFP Board of Generals, pursuant to Republic Act No. 8186, as amended by Republic Act No. 9188, the designation of Major General Romeo S. Brawner Junior 0-10052 Philippine Army as Commanding General, Philippine Army vice Lt. Gen. Andres C. Centino 0-9851 PA is hereby approved effective this date," the letter read.
Brawner replaced outgoing Commanding General Lt. Gen. Andres C. Centino, who assumed as the Armed Forces chief on November 12.
Brawner, a native of Baguio City, is a member of the Philippine Military Academy (PMA) class of 1989.
A Special Forces officer, Brawner was the AFP deputy chief of staff for financial management before he assumed command of the Cagayan de Oro City-based 4th ID in July this year.
Brawner previously served as commandant of cadets of the PMA in Baguio City, commander of the 103rd Brigade in Marawi City, Army spokesman and AFP public affairs chief, among others.
The 4th ID was able to achieve scores of feats against the New People's Army under the leadership of Brawner, including the killing of notorious NPA leader Jorge Madlos, alias Ka Oris, during a firefight in Impasug-ong town in Bukidnon last October 30. One of Madlos' men also died in the clash.
In a statement, Cabinet Secretary and Acting Presidential Spokesperson Karlo Nograles confirmed Brawner's appointment.
"The Palace confirms that President Rodrigo Roa Duterte has approved the designation of Maj. Gen. Romeo S. Brawner Jr. as Commanding General of the Philippine Army," Nograles said.
He said the Palace is confident that Brawner will continue the reform initiatives his predecessors pursued to transform the largest branch of the AFP into "a more dynamic and more professional organization true to its mandate to serve our people and secure our nation."
Presidential Communications Operations Office (PCOO) Secretary Martin Andanar, in a separate statement, congratulated Brawner on his appointment and wished him more accomplishments for the country's security and stability.
"Our utmost confidence that he will be able to undertake his mandate in ensuring our national security at a wider scope efficiently and effectively is anchored on his proven and reputable successes, especially as a Marawi siege veteran, following his tenure as the former 4ID Commander in Region 10," said Andanar, who is also Cabinet Officer for Regional Development and Security (CORDS) for Northern Mindanao. (PNA)