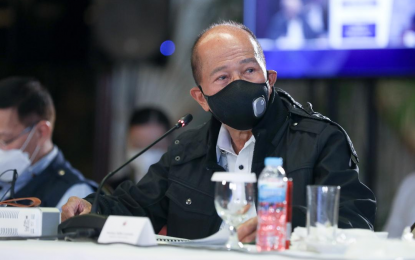 MANILA – Defense Secretary Delfin Lorenzana said the down payment for the Philippine Air Force (PAF)'s Russian-sourced heavy-lift helicopter acquisition program will be released soon.
"Also, the down payment for the heavy-lift helicopters, I think will be paid soon so that we will have the heavy-lift helicopter, Mi-17, of Russia. Malaking helicopter po iyon (that is a big helicopter)," Lorenzana said on the sidelines of the assumption ceremony of Maj. Gen. Connor Anthony Canlas as the new PAF chief on Tuesday night.
Canlas replaced Lt. Gen. Allen Paredes, who retired from the service upon reaching the mandatory retirement age of 56.
The PAF earlier announced that it is looking at the possibility of acquiring heavy-lift helicopters as part of efforts to beef up its helicopter fleet.
A heavy-lift helicopter is a type of rotary aircraft capable of lifting large numbers of personnel or cargo. The Mil Mi-17 is a Soviet-designed Russian military helicopter family in production at two factories in Kazan and Ulan-Ude.
It is known as the Mi-8M series in Russian service. The helicopter is mostly used as medium twin-turbine transport helicopter, as well as an armed gunship version.
It has a maximum speed of 280 km/h (170 mph, 150 knots) and a range of 800 km. The Mi-17 has a crew of two pilots and one engineer and is capable of transporting 24 soldiers or 12 stretchers internally. (PNA)