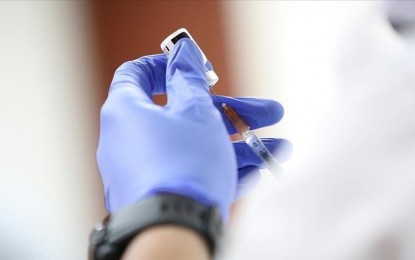 BRUSSELS – European Union health agencies approved on Tuesday the mixing of traditional and mRNA-based coronavirus disease 2019 (Covid-19) vaccines.
"The combination of viral vector vaccines and mRNA vaccines produces good levels of antibodies against the Covid-19 virus and a higher T-cell response than using the same vaccine," the European Medicines Agency (EMA) and the European Centre for Disease Prevention and Control (ECDC) said in a joint statement.
The health agencies reviewed their recommendations for national authorities based on the results of new clinical studies and real-world evidence.
According to the new guidance, the use of a different shot for the second dose, also known as heterologous primary vaccination, or as a third shot six to nine months after the first series, a heterologous booster, is safe and can offer flexibility for national authorities in case of a vaccine shortage.
The EMA has authorized the Pfizer-BioNTech, Moderna, AstraZeneca, and Johnson&Johnson coronavirus vaccines.
The Pfizer-BioNTech and Moderna jabs use the innovative mRNA technique based on a messenger molecule with instructions to produce a protein from the virus that causes Covid-19. This prepares the body to later fight the disease in the case of infection.
Contrary to traditional vaccines, the Pfizer-BioNTech and Moderna jabs do not contain the virus itself.
The products of AstraZeneca and Johnson&Johnson are traditional or viral vector vaccines that prepare the body's immune system to defend against Covid-19 by using a modified version of the virus that cannot cause the disease.
After vaccination, the human body starts to produce antibodies and immune cells that can recognize and fight the coronavirus if the person comes in contact with it. (Anadolu)